KDHX Volunteer Spotlight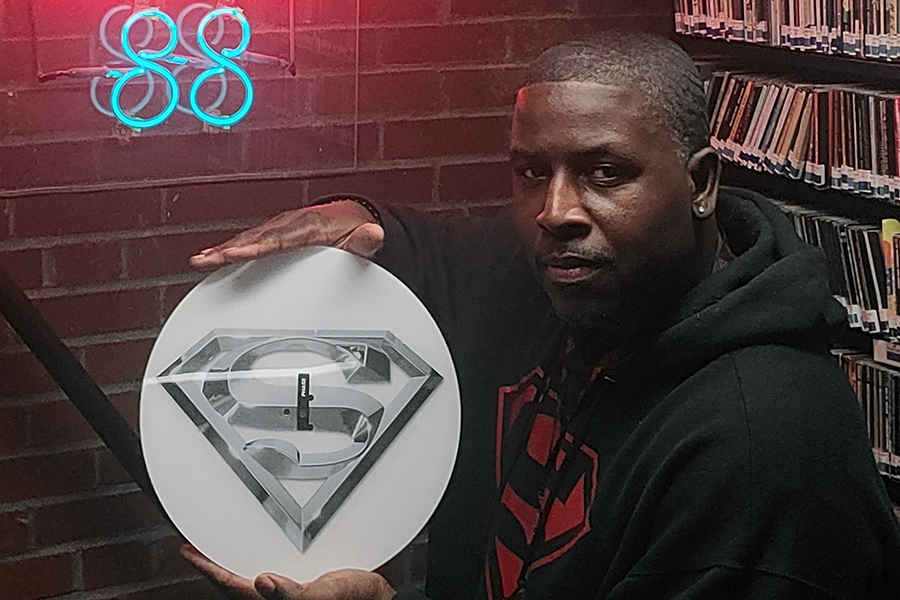 KDHX Volunteer Spotlight: Superman DJ Speed
KDHX Volunteer Spotlight: Superman DJ Speed
The Boom boX
Thursdays - 7:00pm - 9:00pm
"Join Superman DJ Speed for two hours of The Boom boX, where Baby Boomers and Generation X rap. Early 80s and 90s hip hop music and interviews from artists of that era."
In need of some real good, feel-good hip hop? Tune into The Boom boX, where KDHX volunteer, DJ, host and turntable technician, Superman DJ Speed, brings "Therapy Thursday" to the KDHX airwaves. St. Louis born and raised, Superman DJ Speed was "a 70s baby," a time period that coincides with the birth of hip hop. He grew up through the 80s and 90s, which many consider to be the "golden era" of the Bronx-born music form and accompanying culture. Says Speed, "I feel a big connection to hip hop" as both are about his same age. 
Speed's parents, who have passed on, are now "angels watching over me," he says, and he talks to them before going on the air each week. They both played a big part in his discovery of music as well as his start and evolution as a DJ. "They supported my dream all the way through," he says. They taught him to "be in the moment and live that moment," he adds.
His father provided the introduction of a young Speed to the world of rap music, partially through raunchy song parodies popularized by the artist Blowfly, but also through his copy of the song Rapper's Delight, considered by some to be one of the first rap records made. At the end of the song, after the "pop and sizzle," a dumbfounded Speed thought to himself: "What did I just hear?"
 "It was a sound that I knew would be engulfed by from that point on" he explains.
And there was much more musical influence from his father, also a DJ. Speed recalls being in awe as his father would transition from song to song for hours at a time. Funk, soul, blues, gospel and plenty of James Brown was heard as his dad, "The Disco DJ," spun records through five foot tall speakers from his dining room DJ set-up.
Through his two older sisters, who grew up in the 60s, he also heard the Motown sound. Speed says he was absorbing music from "every aspect and avenue" and that "it made everything better." He further found funk through a gradual progression from the JBs to Parliament Funkadelic. Speed embraced all the music he grew up hearing and remains "a fan of music all around."
At around 14 or 15, Speed would observe older DJ friends and their techniques. He had only one turntable at the time, but was a quick learner who taught himself to manipulate sound and sonics by emulating what he heard. 
For his 18th birthday, Speed's mother helped to further sponsor his DJ ambitions, purchasing him a mixer from Radio Shack and two turntables from long-shuttered Circuit City.His dedication to the art of deejaying, mixing and manipulating records and keeping people eager to listen was undeniable and he was well on his way to becoming a DJ. Not just any DJ: First he was DJ Ice Cold, then X-Rated, and finally DJ Speed with the Superman prefix added later. Says Speed of identifying with the Man of Steel: "His mission of goodwill and helping people stuck out, so the persona fit."
Speed's discovery of KDHX happened while scanning the radio dial on a Tuesday night. Having returned home from the Skate King, he was still wide awake — though it was after 11pm on a school night when he was supposed to be in bed. When he landed on 88.1 FM, he came across the hip hop show African Alert, hosted at the time by DJ G.Wiz. Coincidentally, this was the same DJ that Speed had just been listening to and watching spin while skating at the roller rink. 
The impact and influence of G.Wiz, or "big brother" as he is referred to by Speed, was a major contributing factor to Speed's love of hip hop, his desire to DJ and his ambition to become a KDHX DJ. G.Wiz has a deep history with KDHX, music and hip hop in particular. G.Wiz is a veteran DJ and music educator who indeed seems to beget other DJs. Says Speed of G.Wiz's mentorship:"it's a special bond and kinship which was easy to fall into and I get to live out a dream to be on this radio station (KDHX) that I've followed for so long."
In 2018, G.Wiz approached Speed and posed the question, "do you want to do an old school hip hop show?" Speed's response was an emphatic "YES!" 
What began as a tag team effort with Speed alternating between playing music and learning to work the board in the air room led to a good news/bad news scenario: G.Wiz had another show spot opportunity, but Speed could keep The Boom boX going. Speed's response? Another emphatic "YES!" 
In addition to being a KDHX volunteer and DJ, Speed enjoys roller skating and visiting other cities with roller skating communities. He is the creator/host of Just-US League Skate Talk, which highlights the roller skating community and culture and can be found as a podcast and through social media. Just-US League Skate Talk and his devotion to the promotion of roller skating has enabled Speed to travel throughout the U.S. 
He is also a proud father who visibly lights up when speaking of his son. Says Speed of his son Corey,: "I can't imagine life without him, he is a great artist and illustrator who is doing great things."
On how KDHX has impacted him personally, Speed says: "It allows me to explore my social side, have a voice, and be a part of something that helps people feel good. The messages and positive feedback from so many people… the freedom and platform to project and express yourself through a radio personality can be a reflection of life."
First record ever bought? 
Escape by Whodini at Grandpa's department store in University City - (That's taking me back)  
Favorite newish band? 
Have a few: G Yamazawa, Big K.R.I.T., Little Brother, Sa-Roc, Pretty Bulli, Lyrics Jones, Rhapsody, Nite Owl, Black Spade, Nato Caliph
Last live music show attended? 
Wu-Tang Clan, Nas and Busta Rhymes at Hollywood Amphitheatre
Best live act ever seen?
"Fresh-Fest 1988" at the Arena/Checkerdome. EPMD, Stetsasonic, Ice-T, Eric B & Rakim, Public Enemy (I wasn't supposed to be there but I was supposed to be there!) 
Favorite KDHX Program, other than yours?
My brother and sisters as part of the Time Travelers Collective: Traveling at the Speed of Sound, Music My Way, She HEALz Radio. All Soul, No Borders, Night Grooves, Deep Krate Radio, The Record Sto', Churban Radio, Positive Vibrations w/Professor Skank.
Superman DJ Speed is one of the many volunteer voices who help make KDHX possible. 
The Boom boX: Thursdays, 7pm-9pm on 88.1 FM, or listen anytime at kdhx.org