KDHX Volunteer Spotlight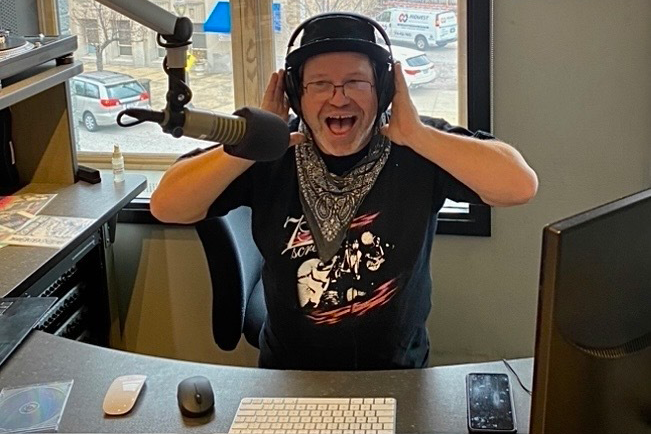 KDHX Volunteer Spotlight: DJ Al Swacker
KDHX Volunteer Spotlight: Al Swacker
The Greaser's Lunchbox
Thursdays - 12:00pm - 2:00pm
"The Greaser's Lunchbox is rock 'n' roll in all of its glorious phases, with an emphasis on its original form — rockabilly!"
So says Al Swacker, KDHX volunteer and host of The Greaser's Lunchbox. Al spins rock 'n' roll for greasers, punkers, metal heads, garage rockers, "teenagers of all ages" and all the others who tune in weekly for his curation of rock, punk, metal, rockabilly - and more.
Born and raised in St. Louis with a few years in Decatur, Illinois, Al has been absorbing and interpreting music since age four when, he says, he loved "The Battle of New Orleans" by Johnny Horton and "Great Balls of Fire" by Jerry Lee Lewis. At age five, he was lip synching "Rhinestone Cowboy" by Glen Campbell in front of the fireplace in his childhood home.
A fan of cool character "The Fonz" of '50s and '60s sitcom fame, young Al loved his Happy Days record of '50s rock & roll, Jim Croce's "Bad Bad Leroy Brown," Looney Tunes cartoon music, as well as popular novelty songs from the '50s and '60s. 
By age eight, Al was a big fan of the Bee Gees… until his so-called alleged "juvenile delinquent" babysitter introduced him to KISS. He was hooked, and before long had all the KISS records, thanks to his grandfather. 
Inspired by the loudness and theatrics of KISS, Al started his first band at age nine… albeit an imaginary band called Demon. He wanted to play drums, but his parents made him take violin lessons. Next up was saxophone lessons. 
At age 10, Al still loved Kiss, plus he was now a fan of Cheap Trick, ELO,The Eagles, Styx and REO Speedwagon. He "also had a soft spot for Barry Manilow, it was the only record at my grandma's house," he says.  
In middle school he got into hard rock: Led Zeppelin, Rush, AC/DC and Van Halen were favorite bands. By eighth grade, Al further discovered heavy metal from the likes of Black Sabbath, Ozzy Osbourne, Iron Maiden and Judas Priest. He was also learning to play the drums. "Finally!" he says.
His one-time imaginary band, Demon, had also become a reality with two friends though the band name soon changed to Fallen Angel. "We Played 3 songs, 'Paranoid' (Black Sabbath), 'Rock 'n Roll' (Led Zeppelin) and 'Let's Get It Up' (AC/DC) and none very well," Al explains. They gave up before ninth grade and Al decided to switch from drums to guitar a year later. "I learned three chords and was self taught after that", he explains.
The summer of '82 found Al seeing concerts by metal bands including Scorpions, Iron Maiden, Girlschool and many more. In his sophomore year of high school he was introduced to seminal punk band X through a best friend by way of osmosis (the friend would play X while a tired Al slept after a long night of rocking out.) Exposure to punk bands like the Ramones, The Clash, Circle Jerks, Dead Kennedys, Generation X, Big Boys, Sex Pistols, Suicidal Tendencies and The Damned followed and, by 1985, Al was a self-described "full blown punk rocker with spiked hair."
Attending Mizzou in the fall of 1986, Al was a skate-punk hanging with like-minded sorts who put him up on more punk bands, among them the Misfits, the Cramps and Sonic Youth.  
Al returned to St. Louis in '88, transfering first to St. Louis Community College and then University of Missouri - St. Louis, where he obtained his degree in communications, with an emphasis on radio and television, graduating in '92. He bought a truck, and moved to San Francisco with his best friend where he lived for a brief stint before "taking his last 50 bucks" and heading north. "I pulled into Seattle at the height of the grunge movement," he says. He joined a hardcore punk band playing bass and toured the country. During this time Al also discovered garage rock and the DIY attitude that went along with it.  
1994 found Al returning to St. Louis where he applied his DIY ethos to the local punk scene. He was continuing to discover music too: country, early blues, folk and rockabilly, inspired him to learn to play songs by Hank Williams, Woody Guthrie and Buddy Holly on guitar. At the same time, he was also busy creating his own band and brand of rockabilly with a friend coaxing him to "play that 'Drunkabilly' music you do so well." 
Al first heard KDHX in 1989, listening to The Mad Russian (who Al would prank call) on Friday nights. He had a connection with the community television side of KDHX known as Double Helix where he did volunteer work.
Later, while hosting open mics at the now-shuttered Way Out Club, a KDHX affiliate suggested that Al consider hosting a radio show. In January 1999, his rockabilly-focused, The Greaser's Lunchbox was born and added to the 88.1 radio schedule. "Switchblade Rumble" was in competition for the title but The Greaser's Lunchbox was deemed a more suitable name.
Initially slotted on Mondays from 12pm-2pm, The Greaser's Lunchbox later switched to Thursdays from 10am-noon, then 12pm-2pm, where it has stayed since 2005. Over time Al has expanded The Greaser's Lunchbox format beyond rockabilly, while still keeping it as an influential focus. 
Al has held many jobs and has had several vocations: booking bands at various clubs around town, managing bands, hosting open mics and karaoke nights, and deejaying at clubs, parties, weddings and burlesque events. Not to mention he has worked in fields as varied as awning installation, bartending and landscaping. And of course he has played in numerous punk and rockabilly bands. 
In addition to the "love of his life," Lea, and their four children between them: Micha 30, Emma 27, Zia 16 and Alex 8, they also have a chihuahua named Gomez Addams Swacker.
Al's hobbies and interests include playing music "obviously," he says, - karaoke, painting, writing, movies, TV, rock and roll history, trivia and float trips - "canoes, not that tube (stuff)," he exclaims.  
When asked what listeners of The Greaser's Lunchbox might not know about him, Al says "I'm a lot shorter in person than I am on the air. LOL."
Of KDHX, Al says: "It has something for everyone. It's a lot like the weather in St. Louis, if you don't like what's on, it will change in about two hours".
On what KDHX's mission to build community through media means to him he says: "It means celebrating our differences by providing entertainment for all rather than excluding each other for different tastes."
First record ever bought? 
Jim Croce's greatest hits
Favorite newish band? 
Pepita Slappers (Swedish Rockabilly)
Last live music show attended? 
Drunks with Guns at The Duck Room
Best live act ever seen?
The Adicts at Delmar Hall 2020
Favorite KDHX Program, other than yours?
All of them! Top 5 (in no particular order) Pop! The Beat Bubble Burst, Uncontrollable Urge, The Big Bang!, Serious Journalism, Rocket 88.
Al Swacker is one of the many volunteer voices who help make KDHX possible. 
The Greaser's Lunchbox: Thursdays, 12pm-2pm on 88.1 FM, or listen anytime at kdhx.org