Volunteer Spotlight
KDHX Volunteer Spotlight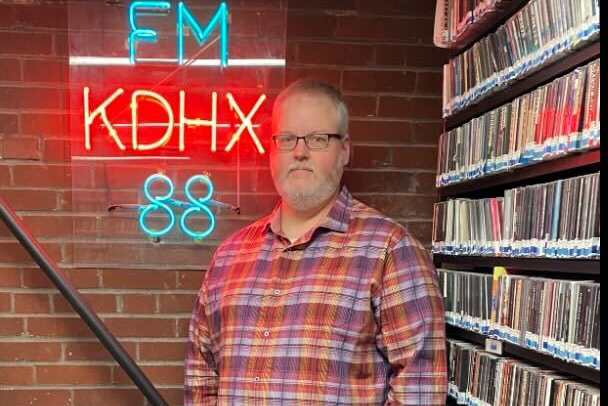 KDHX Volunteer Spotlight: DJ Curt
As a KDHX volunteer, and the host of Music at Work, Curt has a work ethic based on high standards and quality assurance. His programming agency remains fully staffed, and through a deep knowledge of music and thoughtful curation, Curt provides a strong selection of songs to score his weekly show.
Whether you're listening while at work, at home, or in the car, you can be sure of this: Curt puts in the work that it takes and, commits to the work that it makes, when it comes to making Music at Work, work. 
Curt grew up in Collinsville, Illinois, and has lived much of his life in the area, with the exception of seven years in Iowa when his father's job took the family to Des Moines. After finishing high school, Curt considered his options but wasn't yet fully sure of what he wanted to do. His dad and others suggested pharmacy as a good career path. Of his decision to take the suggestion and enroll in the Drake University College of Pharmacy & Health Sciences, also located in Des Moines, "science makes sense to me" he says, "as opposed to economics." Five years later, a Bachelor of Science degree declared Curt an official pharmacist. 
Offered employment soon after completing college, Curt accepted a pharmacist position with a St. Louis-based hospital, thus bringing about his return to the area where he has lived and worked for the past 25-plus years. 
His parents' enjoyment and appreciation of music ensured there was "always music playing in the house, mostly rock, jazz, and singer/songwriters," Curt says. Mom and dad's love of music passed on to Curt. "Dad liked a little country, which I despised initially but grew to like. Mom grew up in the '50s and '60s and was into Miles Davis and the stuff of the time." 
For Curt's late father, Rich, music was a significant part of life. He, too, was a KDHX volunteer, who among other station duties sometimes assisted Curt with Music at Work. Rich also had a part-time sales position with the long-closed Richmond Heights home theater store, Hi-Fi-Fo-Fum. These are the ways he would "feed his habit," says Curt, quoting his father's way of putting it when it came to his collecting and trading of music and stereo equipment. 
Thanks to his dad's music habit, their home was never without a stereo system – or records for that matter. "I never really had to buy records,'' Curt says, regarding his father's numerous "Peaches" crates of albums, which occupied at least two floors. "The good stuff was upstairs, the so-so stuff in the basement," he added. It was an ample collection, providing Curt with a wide array of music to discover.
"I was always searching for other radio stations," Curt says of the dial scanning through which he found KDHX in the early '90s. Reggae was the first music he heard on the station. He didn't know much about the music he was hearing, but he liked the sound of it. "This is fun!" he thought to himself.
Curt enjoyed the wide variety of music one could discover on KDHX. Eventually, he found Rob Levy's Juxtaposition, which was "probably the first show that kept me coming back," he explains.
It was around '97 or '98 when Curt first responded to a KDHX volunteer opportunity posting. "They sent out paper ones at that time," he remembers of the monthly KDHX newsletter that included the posting prompting him to volunteer.
After a phone call and a meeting, Curt was helping to catalog CDs as a KDHX volunteer. 
Over time, Wednesday nights at the station became somewhat of a "KDHX tradition" he says, for a trio that included Curt and fellow longtime Wednesday evening volunteers, Rob Levy and Ken Laster. 
Both Curt and Ken have continuously volunteered their time in helping to manage and maintain the KDHX music library for more than 25 years. 
In 2010, Curt became a substitute KDHX DJ. "It happened fast," he explains, one Wednesday night when a sub for Juxtaposition didn't show. "The poetry guy who was just on couldn't stay," Curt says, adding, "someone suggested that I fill in and play some music." With about five minutes of training and some help, Curt did just that. Enlisting Ken Laster to do the talking while he handled CDs, music, and the board, they "somehow made it through the two hours," he laughs. 
Curt continued to sub as needed but was not pursuing a show of his own at the time. Soon enough, however, with some pushing from Rob Levy, Curt applied and was accepted to become a KDHX DJ. 
Music at Work initially aired on Tuesdays from 10 am-12 pm, before landing in its current Monday night 7 pm-9 pm time slot. The show takes its title from one of Curt's favorite bands, Tragically Hip, and their album "Music@Work."
Along with music and KDHX volunteering, Curt is also a race car enthusiast who occasionally races his own car, a 2002 Chevy Camaro. Curt enjoys traveling, which "usually involves some sort of car racing thing," he says. His car racing adventures have taken him to The Indy 500, Daytona International Speedway, and racing events in Los Angeles and Europe. Curt also enjoys air shows and aeronautic museums. 
When not hosting Music at Work, Curt listens to music "about seven hours a night while at work"…of course…"and mainly KDHX." He then adds, "I listen mostly to KDHX in the car too."
 "If you like music at all, there's something for everybody," says Curt.
First record ever bought? 
I didn't have to buy many records growing up since dad bought them. The first ones I remember owning were Disney's "Chilling Sounds of the Haunted House" and Monkees "Greatest Hits."
Favorite newish band? 
Wet Leg, Royel Otis, Thus Love, Dry Cleaning, Arlo Parks
Last live music show attended? 
Stereolab in Chicago last fall. Don't see shows like I used to.
Best live act ever seen?
Oh jeez, probably Pat Metheny Group or The Tragically Hip. 
Favorite KDHX Program, other than yours?
The Smoking Lounge, Juxtaposition, The Interstate, C Sides, Rocket 88, Hindsight, The Greaser's Lunchbox, Uncontrollable Urge, Rolling Thunder
Curt is one of the many volunteer voices who help make KDHX possible. 
Music at Work: Mondays, 7 pm-9 pm on 88.1 FM, or listen anytime at kdhx.org