KDHX Volunteer Spotlight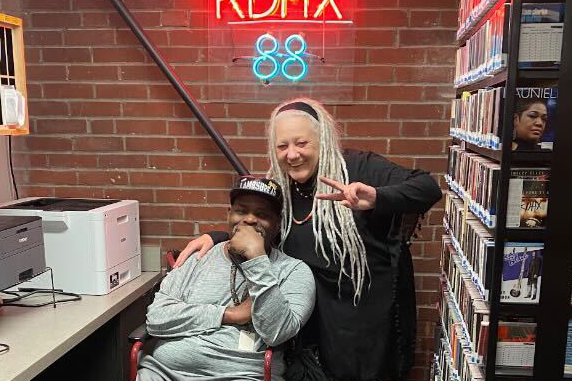 KDHX Volunteer Spotlight: Roots & Glenda
The Night Shift with Mr. Roots
Tuesday/Wednesday - 11:00pm - 1:00am
Reggae is much more than music for KDHX volunteers and co-hosts of The Night Shift, Mr. Roots and Glenda. For them, reggae is a source of spirituality, of positive energy, soul and love. For them, reggae is music with a message of inspiration, music of a higher consciousness, a direct connection to a higher being, to Jah, to The Most High. 
Mr. Roots grew up as Kevin Straw in the St. Louis suburb of Bel-Nor. He attended Normandy, high school, and was a junior minister at Mount Beulah Missionary Baptist Church where he also played drums with the church band.
Roots loved the drums as a child, learning to play at around age 12 while in grade school. As a drummer with the Normandy High School marching band, he was nicknamed "Major" due to his proficiency on the snare, producing a drum roll cadence similar to that of a military band. But "a good kick drum was his favorite," explains Roots of the sound he most enjoyed putting down from behind his drum kit. Roots would become a proficient percussionist, eventually providing drum lessons at the since-closed Dale's Music, in Hazelwood. 
"I was a rocker," Roots says regarding his preferred music as a younger man and before discovering reggae. A rocker who "loved Rush and their drummer Neil Peart," he adds. Church music was also significant in his life, even more so once he began playing drums with his church band.  
In 1994 at the age of 29, Roots suffered a full stroke, which took much of his voice. A heart attack just days after the stroke left his body needing rehabilitation, and Roots unable to play the drums. 
After more than a year of rehab at both SSM Health - St. Mary's stroke rehabilitation hospital and the UMSL Transitional Rehabilitation Program, Roots was back in the care of his mother and father in his childhood home. Roots is thankful to his parents, Johnny and Estelle Straw for seeing him through the roughest time in his life and enabling him to become a part of KDHX. 
As Roots grew stronger, he was ready to once again live independently and resume working. Through MERS Goodwill employment placement services, Roots was referred to KDHX for part-time work. The position was an opportunity for Roots to be a part of KDHX and to reconnect with what was once such a big part of his life, music. After finding an apartment directly across the street from KDHX, then located in south St. Louis city, Roots was that much closer to the station. He didn't even mind climbing the two flights of stairs to get to his unit. 
Lingering effects from the stroke would make it necessary for Roots to resign his position with KDHX in order to focus on his health. But Roots would return to KDHX, this time as a volunteer.
With Roots again spending time at the station, he enjoyed sitting in with Professor Skank during "Positive Vibrations," one of the first reggae shows to air on KDHX. Roots "was loving the vibes," Skank says, and his newfound love for reggae prompted Professor Skank to dub him "Mr. Roots." It was a fitting name, forever linking him and the "roots" style of reggae spun by Skank. 
Skank guiding his entry, Roots was exposed to more reggae and his knowledge of Jamaican-born music grew deeper. Eventually, Skank encouraged Roots to do his own reggae show. Roots liked this idea and after completing the required board training, he was ready for radio. A Bob Marley and the Wailers song, "The Night Shift," was the show title suggested by Skank. The name stuck… "The Night Shift "was now live on the air. Initially airing on Friday nights from 1am to 3am, this first incarnation was hosted by both Mr. Roots and then KDHX DJ, Sister Nancy. 
Roots has been a volunteer with KDHX for 25 years. He is a self-proclaimed "football fiend," who enjoys the NFL (Dallas Cowboys) and the XFL (St. Louis Battlehawks). He also enjoys watching UFC and MMA bouts, discovering new reggae, and searching for reggae videos on YouTube. 
Glenda grew up in a bedside community outside of Columbia, Illinois. Becoming a self-described "hippy," later in life, she was introduced to reggae through her first husband. "Reggae music and its message saved my life. It was so healing" Glenda says of discovering and embracing reggae during a difficult period of self-healing. 
Before becoming a co-host of The Night Shift, Glenda was "a long time listener and fan" of 88.1. "KDHX was, and is, a huge source of music for me, especially the reggae shows, I've heard so much reggae through the station," she explains. 
"Sister Nancy and Mr. Roots always seemed approachable and down to earth," Glenda says of her initial connection to The Night Shift. "I loved their show and was a big fan who would deliver freshly baked bread and hand-picked garden vegetables to the station," she adds smiling.
Glenda was a frequent caller in the early days of "The Night Shift." During one phone call, Roots asked Sister Nancy to hand him the phone, he then took the opportunity to ask Glenda out. Says Glenda of the first date, a reggae show at Club Viva on New Year's Eve of 2008, "I told Roots right then that I was too old for him and this would never work!' The response from a determined Roots, "watch, just watch…" "Less than a month later we were living together," Glenda adds, as both her and Roots laugh out loud.
Glenda puts her heart and soul into "The Night Shift," giving much thought and time to playlists and programming. While Roots gives final approval of songs, Glenda does much of the research and has an ear for discovering new reggae. The over 50,000 songs contained in her digital collection: new releases; old classics; and favorites, serve as proof of Glenda's dedication.
In addition to curating and co-hosting "The Night Shift," Glenda enjoys gardening, growing vegetables and herbs. Caring for others is also an important part of Glenda's life. She has been a registered nurse for over 40 years and has worked in pediatric nursing for the past 20 years. "It's such a huge part of my life. I'm a caregiver…in everything I do…whether caring for Roots, playing sweet reggae music at KDHX, tending my garden or working as a nurse… it's what I'm here on Earth to do," says Glenda."KDHX is truly community radio you won't hear anywhere else. Community information from all kinds of different perspectives that widens your worldview and opens your eyes. Turn it on at any time of night or day, the music grabs you." 
First record ever bought?
Roots: First record bought was by Rush...Roots used to be a real rocker!!!
Glenda: Can't remember the first record ever bought, but do know it was from an advertisement, I think in TV Guide…something like 10 records (45s) for $1.00. Then you belonged to their record club. There were no record stores or even stores that sold records anywhere near where Glenda grew up in the 60's. That and probably a Beatles record.  
Favorite newish band?
The artists aren't exactly new but their work together is. It's brand new, released on March 31, 2023 and produced by Ron Benjamin, formerly of 'Midnite'. This is his first work released since his brother, Vaughn Benjamin's death in 2019. (Vaughn & Ronnie were Midnite) This EP features Tamera on vocals. She's a young artist from Antigua that was previously known as Hempress Divine. Ron Benjamin produced, recorded, and engineered this EP...he composed all the music and played all instruments, this new collaboration is definitely a fave!
Last live music show attended?
The last 'live' show we both attended was Anthony B and it was awesome!
Best live act ever seen?
My favorite show was Dezarie...the best one was possibly Groundation…seen so many GREAT shows!
Best 'live' show Roots ever saw was Midnite.  
Favorite KDHX Program, other than yours? 
Root's favorite show is 'Positive Vibrations' with Professor Skank. It was Professor Skank who introduced Roots to reggae music some 25 years ago. Without Professor Skank…there would be no Night Shift!
We both love and listen to all the reggae shows on KDHX. We also want to pay respect to Matty Dread who has been and still is a major part of The Night Shift. Matty Dread hosts The Night Shift on opposite Tuesdays now but was Root's co-host for many years. Matt is our very dear friend and for about 15 years he has helped keep The Night Shift on the airwaves!