STL Folk & Roots Festival: The Hillbenders, Keirnan Kane & Rayna Gellert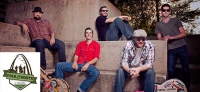 This dynamic bluegrass quintet from Springfield, MO — with their high-octane shows, tight harmonies and stunning instrumental prowess — have been winning fans and making waves at festivals and concerts across the country since their formation in 2008. The HillBenders recognize their ability to bridge the gap between mainstream music and the bluegrass genre, selecting material that defies any hillbilly stigmas. Their festival appearances also reflect the crossover; the band recently played the very traditional Gettysburg Bluegrass Festival and the esteemed Philadelphia Folk Festival on back to bay days on the same weekend.

With their widely varied influences, they are trying to bring to bluegrass songs that unify. "We wanted to pair bluegrass with the other music we grew up with — rock and roll!" say HillBender Nolan Lawrence.

The HillBenders Instrumentation: Mark Cassidy – banjo, Gary Rea – bass, Jim Rea – guitar, Nolan Lawrence – mandolin, Chad "Gravy Boat" Graves - dobro

Kieran Kane has been referred to as "the godfather of Americana music" for his seminal work in The O'Kanes and Kane Welch Kaplin, as well as co-founding the independent label Dead Reckoning Records. Rayna Gellert turned to Appalachian old-time music at a young age, becoming a prodigious fiddler and leading a new revival of American stringband music through her work with the acclaimed roots band Uncle Earl.

Part of the St. Louis Folk and Roots Festival. A Weekend Pass, which includes this concert, is available.