Film Reviews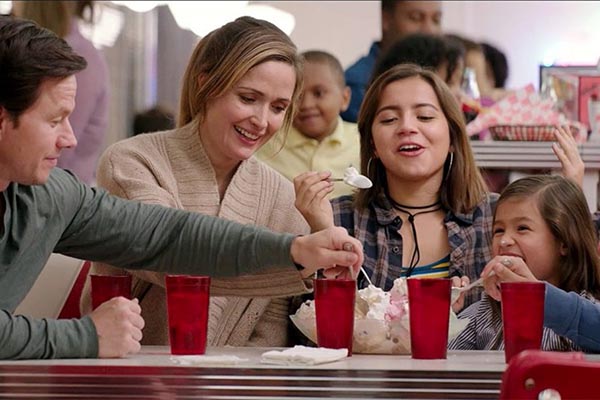 'Instant Family' Has Comedic Appeal and a Serious Message
Written by

Diane Carson
What a romp! Director Sean Anders' "Instant Family" approaches the fast-paced repartee of a classic screwball comedy with the delicate balance of a tightrope walker regarding its subject. That is essential to highlight the pleasing comedic take on a serious issue: foster families and, upon occasion, application for adoption of foster children.  
"Instant Family" is delightfully funny without glossing over the considerable frustrations and immense challenges caring for often unwanted or unloved children or, painfully, children parents just can't care for. Lest this sound grim, this dramatization is anything but, thanks to the brilliant pairing of Mark Wahlberg and Rose Byrne as the potential foster parents. Their snappy, sharp dialogue exchanges and their deadpan reaction shots keep the pace animated and the undercurrent lovingly affectionate. 
Pete (Wahlberg) and Ellie (Byrne) run a construction/rehab company that repairs and beautifies physical properties, an appropriate metaphor for their emotional restoration of young and teenage individuals. In short order, they almost accidentally end up with three Latino siblings, 15-year-old Lizzy the most problematic of the three. Pete and Ellie do get assistance, more or less, from foster parents counselors played by Octavia Spencer and Tig Notaro, who repeatedly interject, unintentionally, their own comedy routine. Adding even more solid depth is Margo Martindale as Grandma Sandy and Julie Hagerty as the other grandmother.
The music, which makes no effort to be subtle (nor does it need to be), adds another fitting commentary with songs like "Someone's knockin' at the door, Somebody's ringin' the bell . . . Open the door and let 'em in." Locations are varied, scenes expertly staged to use the spaces well, and the art direction relies on bright, colorful details—all contributing to an inviting presentation.
Co-writers Anders and John Morris note that "Instant Family" is inspired by a true story. Moreover, at the film's conclusion, they underline the serious need for foster families, noting that a half million kids are in foster care. And as the credits roll, photographs of foster children and their families share the screen. "Instant Family" is a charming film that has a heartfelt message. What a great combination. At area cinemas.