Film Reviews
Film Reviews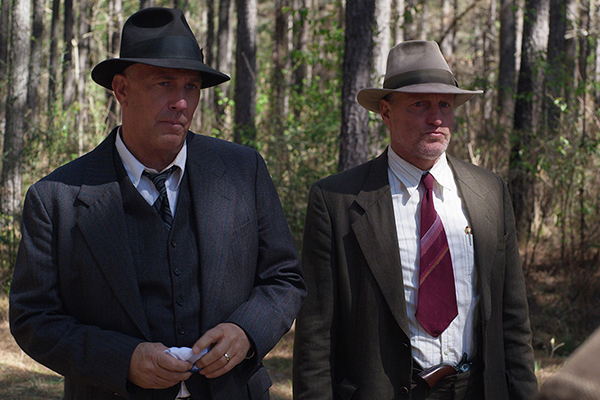 'The Highway Men' Follows the Authorities Following Bonnie and Clyde
By KDHX
Several years ago, I worked on the documentary 'Remembering Bonnie & Clyde,' devoted to detailing the real Clyde Barrow and Bonnie Parker. The pervasive and extensive fascination with them always amazed me, and so I felt apprehensive getting ready to watch 'The Highwaymen,' afraid of the sensational approach director John Lee Hancock might take to the legend.
I'm relieved to report that, despite some tired Hollywood touches such as the local law enforcement versus the national agents, writer John Fusco gets many details exactly right. For example, Clyde's father did run a gas station and bemoaned the brutal end his son faced. Clyde did return to Eastham prison to break out fellow inmates who were regularly beaten. After a car accident burned her left leg, Bonnie did walk with a limp. Sidekick Henry Methvin and his father "Ivy" facilitated the setup that led to the posse's success May 23, 1934 outside Gibsland, in Bienville Parish, Louisiana. Ted Hinton was added to the six-person posse to provide positive identification because he knew the Barrow family as well as Bonnie, and he did take 16-mm film footage of the car with the two bullet-riddled bodies still inside, shown during the end credits.
The art direction is equally meticulous in illustrating the time period: the migrant camps and other settings, the clothes and incidentals, including old-time chenille bedspreads. In addition, the film doesn't gloss over Bonnie and Clyde's merciless brutality. But the heart of 'The Highwaymen' is the relationship between Frank Hamer and Maney Gault, especially their complementary personalities. Kevin Costner as Frank Hamer and Woody Harrelson as Maney Gault play off each other with consummate ease and, it certainly seems, the thorough enjoyment of two veterans at the height of their craft. It's a great pleasure to watch their pas-de-deux.
Skillfully, director Hancock and his editor Robert Frazen invite us to settle into the leisurely pace of this two-hour twelve-minute story, one that approaches the legend from a fresh and refreshing perspective. What did the men following Bonnie and Clyde's bloody tracks endure physically and emotionally? What drove them? How much did they question their own tactics in the past and present?  'The Highwaymen' offers one intriguing answer to those questions.
"The Highway Men" is now streaming on Netflix.