Film Reviews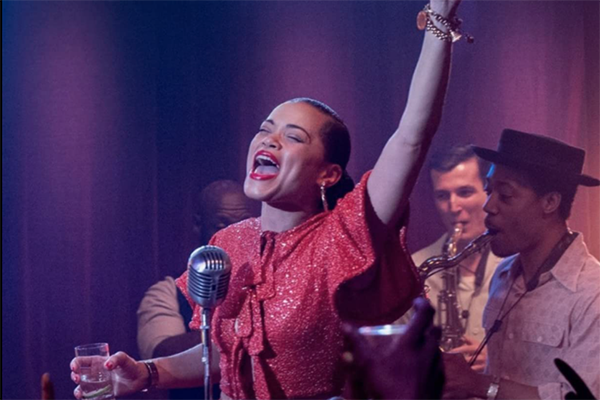 Film Review: 'The United States vs. Billie Holiday'
Written by

Martha K. Baker
The song, "Strange Fruit," first recorded in 1939, got Billie Holiday in trouble. The lyrics by Abel Meeropol are not subtle: 
"Southern trees bear a strange fruit.
Blood on the leaves and blood at the root
Black bodies swingin' in the Southern breeze
Strange fruit hangin' from the poplar trees."
When FBI director J. Edgar Hoover heard the great Billie Holiday singing against lynching, he targeted her in an undercover sting operation run by the Federal Department of Narcotics. "The United States vs. Billie Holiday," based on the novel by Johann Hari, follows Holiday's career as a jazz vocalist. Born Eleanora Fagan in 1915, she was the child of a whore, and she was a whore and a drug addict.
Like Ma Rainey, Holiday was bisexual; Holiday had relations with Tallulah Bankhead (Natasha Lyonne). After imprisonment for using, she returned to cabarets and concerts -- and narcotics. She was hounded by agent Jimmy Fletcher (Trevante Rhodes), with whom she had a fiery affair. Fletcher was bossed by Harry Anslinger (Garrett Hedlund), under Hoover's direction. The minute she sounds the first notes of her signature song, he commands, "Get her off that stage" and strips her of her cabaret license. Still, Holiday kept singing that song. "It reminds them they're killing us," she says.
Andra Day, known for her hit "Rise Up," plays "Lady Day." Day, her hair adorned with Holiday's signature gardenia, is fearless, whether engaged in brutal sex or in belting the blues or mopping the prison floor.
Lee Daniels ("Precious" and "The Butler") directed this explosive film, inserting flashbacks to Holiday's horrible childhood and vintage newsreels -- of Holiday's funeral in 1959, for example. He worked from a screenplay by Suzan-Lori Parks, the award-winning playwright. Daniel Dorrance's production believably recreates the worlds of smokey cabarets and filthy prisons. "The United States vs. Billie Holiday," not merely a chronological biopic of Billie Holiday, stands as a polemic against lynching (note: the Emmett Till Anti-lynching bill has still not passed Congress). Pair it with "MLK/FBI" and "Judas and the Black Messiah" to continue exploring the depths of J. Edgar Hoover's racism and sexism, but also pair it with Lillian Smith's brilliant 1944 novel, Strange Fruit, the bestselling book of the Forties at home and with soldiers abroad during WWII. 
"The United States vs. Billie Holiday" is tough to watch, tough to reckon, but vital to record.