Film Reviews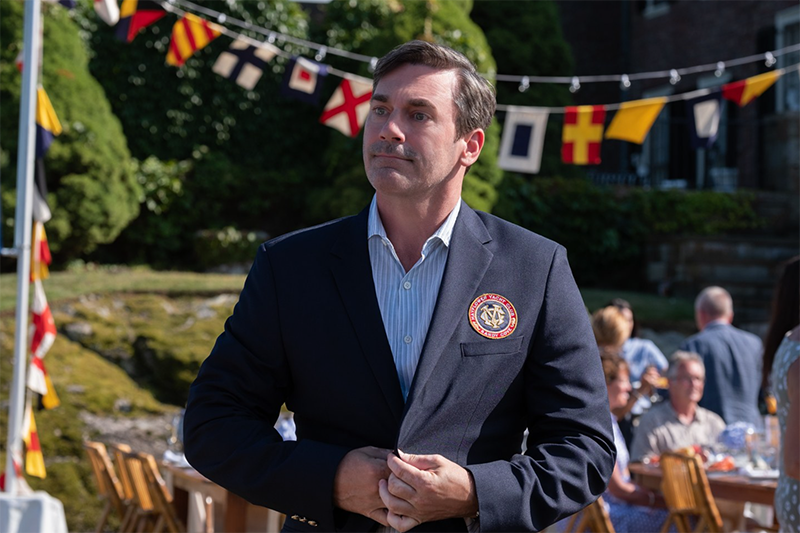 'Confess, Fletch' continues the old franchise
Written by

Martha K. Baker
Get ready to experience a Fletch film sans Chevy Chase. Get ready to give Jon Hamm a chance at the grail that is Fletch, a charming, discombobulated detective and, most interesting --and to him significant -- a former investigative reporter. 
That life provided expertise for being an investigative detective, he insists. To wit: When interrogated whether he has income from unsavory sources, he responds, "Writing for in-flight magazines is as unsavory as it gets."
Fletch is the nickname of Gregory McDonald's punky protagonist, Irwin Maurice Fletcher. He was the title character in the films "Fletch," "Fletch Lives," and "Fletch Won." Fletch returns in this "Confess, Fletch," as the doughy doofus. He is the stumblebum with stubble on his face and his dad bod stuffed redundantly into a wrinkled suit. Oh, and wearing his favorite Lakers gimme cap. He's adorable, according to him.
Fletch is the suspect in a number of murders, so he sets out to prove his innocence. At the same time, he must find out who's stolen his fiancé's art collection. She is Italian, which forces Fletch's running gag that his "Italian is molto bono." It is not. His knowledge of art is equal. He notes that Impressionism comes in pre-, post-, and neo- versions -- "all the best prefixes," he adds.
He presents pseudonyms like coffee on a Sunday morning and defines "bespoke" as "betalks."
St. Louis' Jon Hamm pulls off the role, making like Groucho. He is supported especially well by Annie Mumolo as a ditzy Chatty Cathy, by Lucy Punch as an "influencer," by his old "Mad Men" castmate John Slattery as his editor, and, as the Countess, by Marcia Gay Harden, seen recently in television's "Uncoupled" and "The Morning Show."
"Confess, Fletch" is directed by Greg Mottola, known for the brilliant TV series, "The Newsroom." "Confess, Fletch" calls for a lot of moving around, city to city, flashback to present day. Mottola also co-wrote the script with Zev Borow, and McDonald, the character's creator.  The result is expository, with lots of the story spread out in speeches. 
"Confess, Fletch" is more bagatelle than Booker-prize fiction, but it will send inquiring minds to ask Mrs. Google about pigs' pleasures.