Inside KDHX
Inside KDHX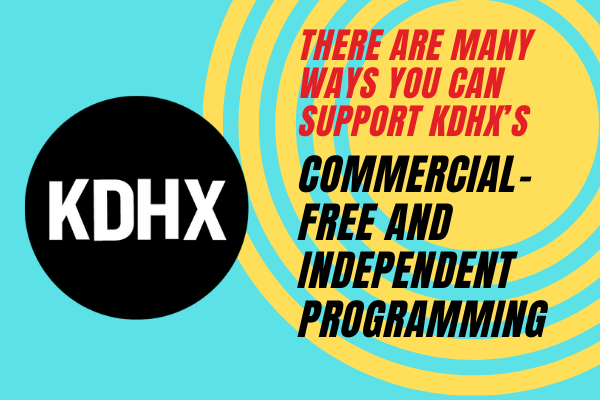 There Are Many Ways You Can Support KDHX
"I've listened to KDHX for the past 10 years since I came back home to good ole STL, but really haven't had the means to donate until now. It makes my life better in every way. Who needs to pay for satellite radio in this town!" Danny from St Louis
We want to thank Danny for giving his first-time gift and for including why he supports KDHX. We are thrilled to know that this station makes his life better and that he is finding all his musical needs on KDHX. Danny did not have the means to support the station for many years and I'm sure he is grateful for all of the people who were able to donate when he could not. Now he is a KDHX donor and creating the opportunity for others to perhaps have their lives enhanced by what they get to experience on KDHX.
Whether you have the means or not, there are many ways you can support KDHX's commercial-free and independent programming.
You can support KDHX with a monthly or a single gift. Every gift matters and has a huge impact at KDHX. Visit Support.KDHX.org. You never have to wait for one of our on-air Drives to give. You can give to our Summer Campaign right now.
Donate a vehicle you no longer need. Donate a car, truck, boat, tractor, RV or riding mower. Our vehicle donation partner, CARS, can answer any questions you have and get the process started.
If live music and supporting independent and local artists is important to you, consider supporting our Listen Live at KDHX programming. Experience our most recent Listen Live performances on the KDHX YouTube channel.
Include KDHX in your will or other planned giving. Contact your tax or legal advisor to find out how you can leave a lasting impact on KDHX and ensure that KDHX's commercial-free and independent programming is here for years to come.
Be a KDHX ambassador. Record a donor or listener testimonial that we can share on the air with other listeners about why KDHX is important to you. 
Spread the word about KDHX with a bumper sticker on your car, share our content on social media and tell your friends and family to tune in at 88.1 FM or at KDHX.org. 
If you have questions about anything listed above, please get in touch with Andrea in Donor Relations. Email This email address is being protected from spambots. You need JavaScript enabled to view it. or call 314-925-7529.