Inside KDHX
Inside KDHX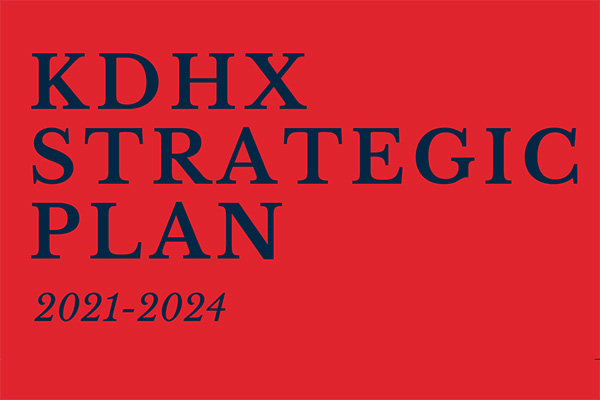 KDHX Update From Donor Relations Director Andrea Dunn
In October of this year, I observed my 20th anniversary as a KDHX volunteer and eight years in my current staff position as the Donor Relations Director. Over the last two decades it has been an honor and a privilege to be part of this organization that so many people hold dear and consider to be one of the best things about living in St. Louis. 
In 2020, the pandemic had a great effect on the nonprofit world. Some nonprofits flourished and others suffered great losses in funding. KDHX saw growth both in the number of donors, in the amount of funding we received from individuals and from vehicle donations. Why did the station do so well during the pandemic? We believe it is because we offer the much needed service of music that continues to serve as a refuge and a place of joy for so many during extremely hard times. And, as a radio station, we have the advantage of the airwaves to encourage people to donate and to form connections with the communities we serve.
As 2021 began, we were unsure if the growth we experienced in 2020 could be maintained. The projection in the public media sector was that funding would return to pre-pandemic levels. We are happy to report that the gains we saw in 2020 continue to be maintained and even exceeded. One of the goals of our Strategic Plan is to increase revenue by 5% each year over the next three years and we are already above our goal for 2021. The funding from our vehicle donation program this year is double what it was in 2020 and income from businesses, organizations and nonprofits that contribute to KDHX is rebounding from the hit it took during the lockdown phase of the pandemic.
As we prepare for 2022, we are excited to continue the work that is laid out in our Strategic Plan and to maintain the growth we have experienced over the last two years. As a staff, we continue to evaluate all facets of KDHX to ensure that we are a truly equitable organization and that includes the Donor Relations department. I am currently immersed in learning more about a relatively new fundraising philosophy known as Community-Centric Fundraising (CCF). There are several principles of this fundraising approach, many of which are a natural fit for KDHX. Here are a few of the CCF principles that we have begun to employ: 
All who engage in strengthening the community are equally valued, whether volunteer, staff, donor, or board member.
Time is valued equally as money.
We treat donors as partners, and this means that we are transparent, and occasionally have difficult conversations.
We foster a sense of belonging, not othering.
One of the other tenets of CCF is that every donation, no matter the amount, is equally valued and that is why, earlier this year, we removed the minimum donation amount to be a member of the KDHX Fan Club. While we will continue to offer suggested donation amounts, we will also ensure that all of our donors know that their support is valued and has a true impact no matter how much they can give.
Even before the idea of CCF was introduced to us, the belief that all gifts have an impact has always been part of KDHX's foundation. This station has an incredibly wide-ranging audience that is very socioeconomically diverse. We have donors who gave us their stimulus checks in 2020 because they could afford to do so and we have donors who live from paycheck to paycheck and some whose sole income is from their social security or disability checks. They all give to KDHX because this station plays an important part in their lives and they want to be part of its success. Everyone who donates should receive the same degree of gratitude and recognition. 
We also recognize that not everyone can support KDHX financially and we are exploring ways to redefine what it means to be a "donor." For instance, we have many listeners who are unable to give a gift of cash but they are able to donate a vehicle. How can people contribute to the success of KDHX in ways outside of giving a gift or even volunteering? We want to encourage and define "ambassadorship" and are developing ways of measuring the impact of listener participation outside of traditional metrics. 
You may have noticed that I do not hold the title of Director of Development, rather I am the Donor Relations Director. The emphasis here being that my focus is building relationships with our donors rather than seeing them only as a source of funding. Gifts from our donors are much more than just a donation—they are a declaration of commitment to commercial-free and independent radio. Our donors' incentive to give is not because their gifts are tax-deductible but because they appreciate and value what this station stands for and offers.
I am honored to work with all of the partners that make this station possible—our listeners and donors and my fellow staff members along with our dedicated group of volunteers. Together, we will strengthen the role of public media and deliver the power of music and the joy of discovery to every one.