Inside KDHX
Inside KDHX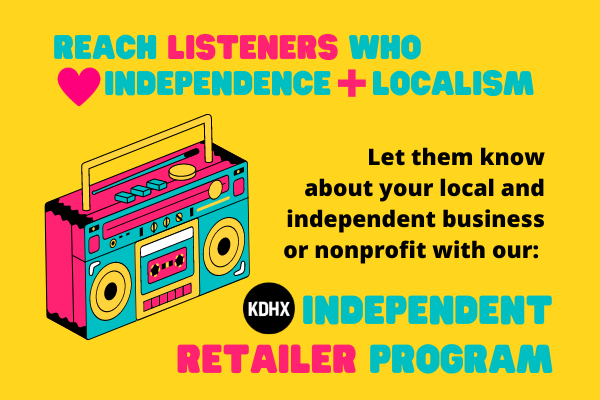 Spread the word about your local business or nonprofit
KDHX wants to support independent businesses like yours and so do our listeners!
We know it has been a tough couple years, so we created an easy way for local small businesses and nonprofits to share their products, services, events, or mission and values with the rest of the St. Louis region. We call it the Independent Retailer Program.
The Independent Retailer Program consists of four on-air announcements per day for five days. We normally charge $550 for these coveted slots, but right now for local businesses like yours, it is only $375—a discount of more than 30%!
When you take advantage of this easy-to-purchase special you are benefiting from significant discounts to run on-air announcements and reaching a diverse regional audience. And when you partner with us, you are supporting KDHX's 100% locally-produced and independent programming!
KDHX listeners appreciate independence and localism which is why they love small businesses. Even more so, KDHX listeners love to support those businesses that they know support KDHX.
To learn more about how a partnership through underwriting benefits both your business and KDHX's independent programming, please contact:
Jesse Hebisen
Underwriting Account Executive
KDHX Community Media
314-925-7540
This email address is being protected from spambots. You need JavaScript enabled to view it.
KDHX is a non-profit (501c3) commercial-free community radio station broadcasting to the entire St. Louis region on 88.1 FM with a 43,000 watt tower and an online stream that reaches thousands more in St. Louis and around the world.
We are independent media; we are not sponsored by a college or university and we are not affiliated with a larger national radio conglomerate. In fact, we are largely supported by almost 6,000 individual donors mostly in the St. Louis region.
We have almost 90 DJs and shows that are 100% locally-created and produced, all very different, and all broadcast live from our studios in Grand Center. At KDHX, we love to play the genres of music that are largely ignored by commercial radio and we highlight local St. Louis artists, current and historical.