Inside KDHX
Inside KDHX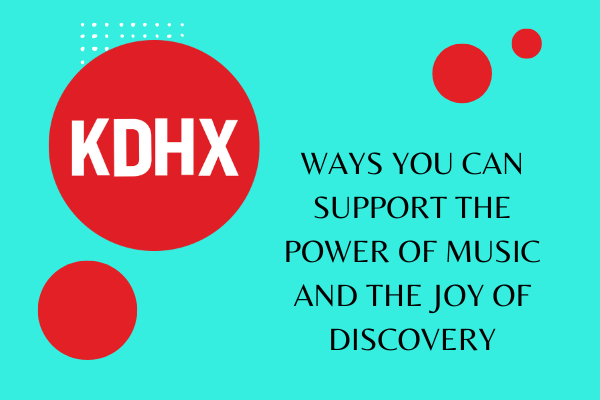 Ways that you can support the power of music and the joy of discovery on KDHX
The success of KDHX is dependent on more than just financial support.
KDHX continues to thrive because of the remarkable community of listeners who support this station with generous gifts and also through meaningful actions and words. Please take a moment to take a look at the many ways that you can support the power of music and the joy of discovery on KDHX.
– You can support KDHX with a monthly or a single gift. Every gift makes a difference and has a huge impact at KDHX. Visit Support.KDHX.org. You never have to wait for one of our on-air Drives to give.
– You can donate a vehicle you no longer need. Donate a car, truck, RV, riding mower, motorcycle, scooter, tractor or boat. Our vehicle donation partner, CARS, can answer any questions you have and get the process started.
– You can make an impact by donating Real Estate. You can donate land, second homes, rental property, commercial real estate and estates.
– Include KDHX in your will or other planned giving. Contact your tax or legal advisor to find out how you can leave a lasting impact at KDHX and ensure that KDHX's independent programming is here for years to come.
– Record a testimonial that we can use on the air to share why KDHX is important to you. If you've recently donated a vehicle, record a Vehicle Donor Testimonial or if you want to share with others why KDHX is important to you, record a Donor or Listener Testimonial. Contact This email address is being protected from spambots. You need JavaScript enabled to view it. for all of the details.
– Spread the word about KDHX with a bumper sticker on your car, share our content on social media and tell your friends and family to tune in at 88.1 FM or at KDHX.org.  
– If you have recently given a gift to KDHX or if you give a monthly gift, check with your employer to see if they offer a Charitable Matching Gift program for their employees. You can double the impact of your support with a match. 
If you have questions about anything listed above, please get in touch with Andrea in Donor Relations. Email This email address is being protected from spambots. You need JavaScript enabled to view it. or call 314-925-7529.