Inside KDHX
Inside KDHX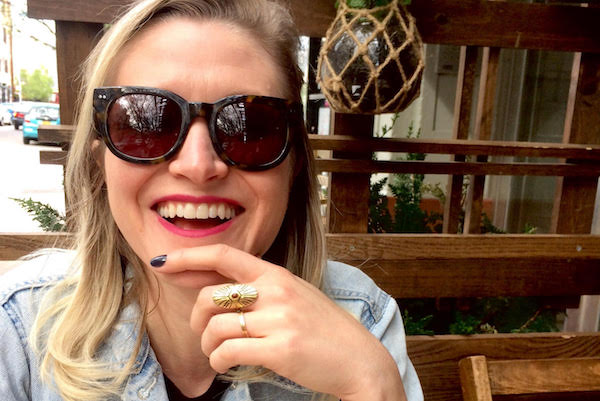 The Future Is Now brings new sounds to KDHX drive time: An Interview with Chris Sanley
Highlighting new music of various genres, The Future Is Now with Chris Sanley is the latest show in the KDHX lineup airing from 4-7 p.m. on Thursdays. Longtime KDHX listener and supporter, Chris has served as a KDHX intern and volunteer for several years, starting when she was a student at St. Louis University. Not long ago, her passion for music and radio led her to New York to work in the music industry where she found herself working with some breakout acts of the past few years. A native of Omaha, Chris continues working in music promotion since her return to St. Louis and KDHX. As she looked forward to the first time on air as host of The Future is Now, I interviewed our ecstatic new DJ about her longtime obsession with music, what to look for on The Future Is Now and what KDHX has meant to her.
Nick: I have to say I'm really excited to hear the new show! I know that you have a massive interest in so much music and have an enormous collection of records. Since you first applied for a show on KDHX, you've filled in for various shows including mine, The Space Parlour, as well as Wax Lyrical, The Rhythm Section and even Folks of the World. What can listeners expect when they tune into The Future Is Now?
Chris: I'm constantly seeking out new, exciting music spanning across various genres. I couldn't be more excited to share this journey of musical discovery with KDHX listeners during The Future Is Now. My plan is to highlight a lot of singles from recent releases and forthcoming albums, which is where the title of the show comes from: playing music from future releases now. Folks will hear rock, pop, soul, hip hop and more.
Nick: How did your interest in music start -- has it changed over the years?
Chris: My interest in music first began with my discovery of the piano, immediately after which I begged my mother to let me take lessons. From there my interest and taste in music has changed pretty dramatically. In my younger days, I primarily listened to classical, oldies, Motown, and what I heard on mainstream radio -- we didn't have many options in Omaha. I'll always have a soft spot for Mariah Carey -- but my taste definitely leaned more alternative to acts like Nirvana and Weezer. Then during high school, I became aware of Saddle Creek and the music scene that they helped foster in the area, and that's when a light really went off for me. I became obsessed with seeking out new emerging talent more in the indie rock/pop world, college radio scene.
Nick: How did you first become aware of KDHX?
Chris: I moved to St. Louis in 2004 for college and started working at KSLU. From my involvement there I was introduced to the magical world of KDHX and knew I wanted to be involved in any way I could. So I started interning in the music department there, volunteering at events, and just lending a helping hand whenever I could. And of course I dreamed of having a show on the station one day. I'm still pinching myself.
Nick: Do you have any specific memories of being at the old building on Magnolia?
Chris: Oh boy, I spent a lot of time in that space, where I ripped and filed probably thousands of CDs. I didn't really sleep much in those days, so I'd often man the phones during the graveyard shift of fund drive, slugging coffee and working on my studies -- it was always so great to receive calls from listeners in those early hours, relaying how much they loved the station. Once during a more normal hour, John Goodman called to donate, so that was pretty cool.
Nick: Since having a show at KSLU and serving an internship at KDHX from 2005-2008, you moved to New York and you've worked in the music industry for several Triple A and college radio promotion companies and with many notable artists and labels ranging indie rock, pop, punk, soul, R&B, Americana, hip hop, electronic, R&B, World and jazz.  Are there artists you've gotten to see move from being a little-known band that would get some airplay on a station like KDHX to blossoming into household names?
Chris: I've had the privilege to work with so many amazing artists over the years. Some I've seen grow into bigger names would be Sylvan Esso, Ra Ra Riot, Danny Brown, Laura Marling, Deer Tick, Phantogram, Esperanza Spalding, and of course, Sharon Jones, may she rest in peace.
Nick: So how do you decide what songs go into an episode of The Future Is Now?
Chris: I mean there's a lot that goes into it, from who is touring through St. Louis soon to what just dropped. But so much of it is also just gut -- what I'm vibing with, which songs are going to work into one another, and making sure I'm showcasing a wide variety of artists and styles. I hope to keep folks pleasantly surprised with what's coming, while still having everything flow smoothly throughout the program. Also since I work in the music industry, to avoid any conflict of interest, there's a two-song cap on the amount of songs I'm allowed to play from an artist I'm working with. So that gives both me and the station some peace of mind on that aspect without cutting off new music I'm excited about.
Nick: Your job requires you to stay on top of the latest music trends. How do you feel the sounds being made in 2017 have changed over the last ten years?
Chris: There has certainly been a lot of change in the last decade. What's most exciting to me is the diversity of what's being released. I feel like ten years ago, especially with what was played in the college and non-commercial radio world -- it was so rock-oriented. Whereas today, there's a much more diverse landscape. There's certainly still plenty of great rock music coming out, but we also have some really interesting more electronic leaning pop music, super cool neo-soul, R&B and hip-hop artists bubbling up -- along with artists that are fusing together some really unique styles, creating entirely new soundscapes. There is such a high volume of quality music releasing each week now, it's a really exciting time.
Nick: There are more platforms to hear music than there's ever been as well. What do you feel is non-commercial and community radio's role in all of it?
Chris: I hear that! With the volume of new music being higher than it's ever been and having so many different ways to access it, radio's role is really more important than ever. There's such an important curation process that radio has the ability to do in a way that an algorithm never could. DJs can get super creative with how they pivot from one song to the next and program their show specifically to their region and their listeners. Radio is such an important tool to help point the audience to new, exciting music, helping them navigate the waters of new releases these days.
Nick: Any local artists or newer artists that you're itching to play on the show?
Chris: Of course! Bruiser Queen, So Many Dynamos, Black Spade, Pokey LaFarge, Middle Class Fashion, Sleepy Kitty, CaveswordS, Whoa Thunder...
Nick: Sounds great, how about artists that would sum up your show, what would they be?
Chris: That is a tough one since I'm hoping to showcase mostly different new music each week. But I'm a fan of Angel Olsen, Grizzly Bear, Perfume Genius, LCD Soundsystem and Woods, so I can see them making frequent appearances. 
Nick: Favorite legacy artists?
Chris: If I had to name a few I'd go with David Bowie, Patti Smith, Neil Young, Otis Redding and Beck, which you'll probably hear during the Throwback Thursday five o'clock block I have planned.
Nick: New music...future music?
Chris: Looking ahead I'm really excited for new music to come from Waxahatchee, Algiers, Courtney Barnett, Shabazz Palaces and Charles Bradley (who just announced his first shows in a while) looks like he's got a lot of tour dates which is promising, hopefully he makes it through St. Louis again soon, too. 
If you missed the debut of The Future Is Now, you can catch up by checking out the show through our streaming archives.