Music News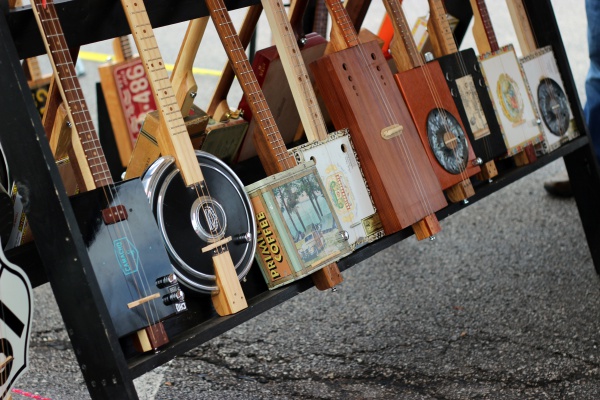 Festival photos: St. Louis Cigar Box Guitar Festival at Highway 61 Roadhouse, Saturday, June 4
For the fourth year, Highway 61 Roadhouse hosted the Annual St. Louis Cigar Box Guitar Festival, featuring workshops, vendors, and performances by Justin "The Wizard" Johnson.
A time-honored craft dating back to the mid-1800s, Cigar Box Guitars found great popularity during the Civil War. Using a hollow box as a resonator and a broomstick for a fretboard, these instruments quickly became the staple of jug bands and early blues composers.
Nowadays, cigar boxes are not the only items being used to create these whimsical treasures. Vendors at the festival displayed musical creations made out of cookie tins, hubcaps, iron skillets, briefcases, and the ever popular bed pan. In addition, there were a few banjos and fiddles thrown into the mix.
Enthusiasts took turns playing a variety of handcrafted instruments in a tent on the parking lot, while guitarist and cigar box guitar expert Justin Johnson played the main stage. Inside, cigar box luthiers stood in a line at the stage with their creations, waiting their turn for Johnson to check out their instrument. Taking a few minutes before he began to play, Johnson would describe the instrument's construction and features, followed with a short performance on the instrument.
Festival organizers Gary Herget and Steve Miles created the festival in 2013, along with the owner of Highway 61 Roadhouse, Bill Kunz.
For more information, visit stlouiscigarboxguitarfestival.com.
Photos by Valerie Tichacek
Click here to see the complete collection of photos.