Music News
Music News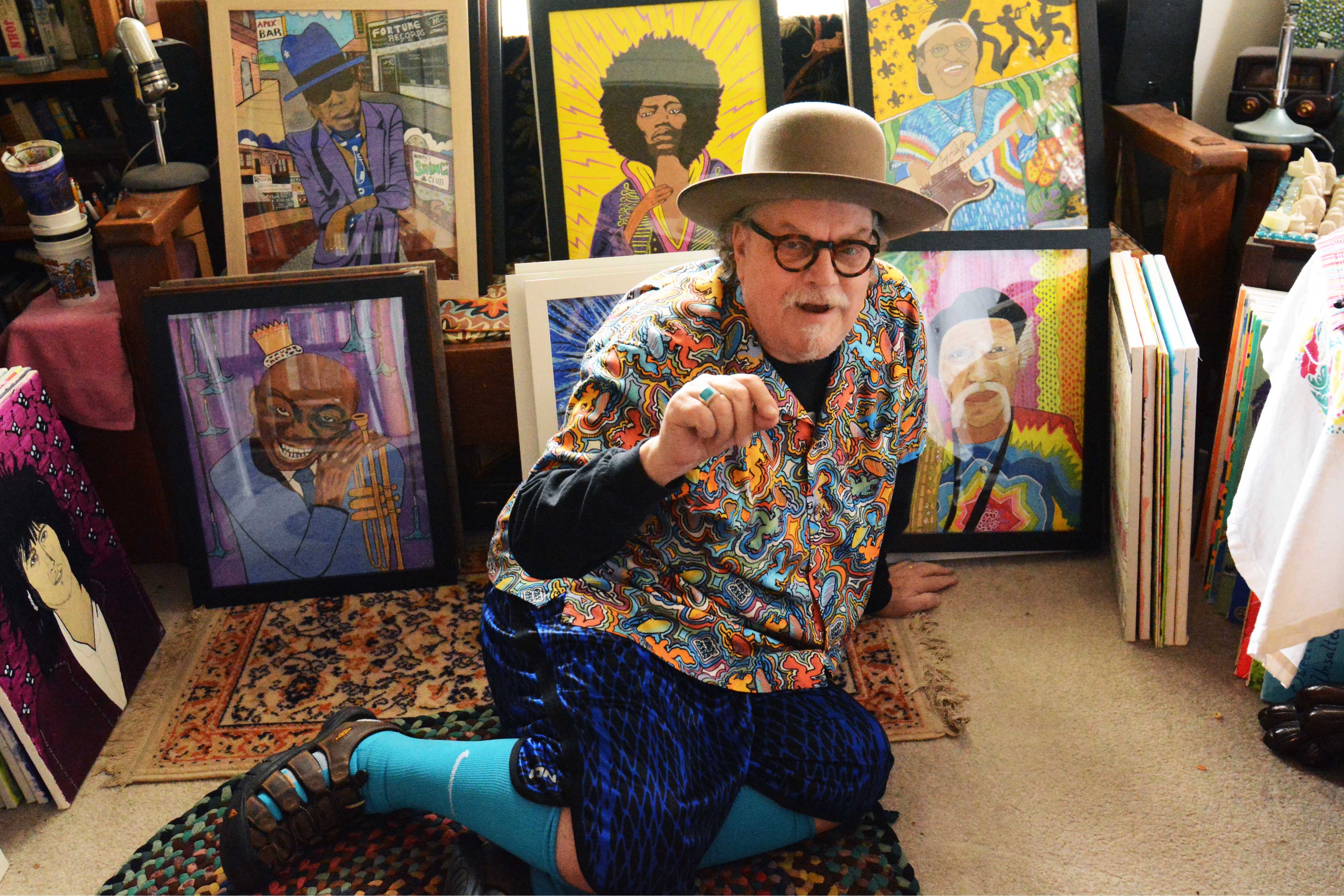 Happy to Have the Blues: The Art of Robert Jr. Whitall
By KDHX
Sometimes life comes full circle. Robert Jr. Whitall – whose art show, "Happy to Have the Blues," opens at the National Blues Museum on June 14 – would certainly agree.  
His interest in art was discouraged by his parents. However, his creative talents would flourish through four decades of photography and music promotion and through 24 years as the publisher of the nation's largest blues magazine by circulation, 'Big City Rhythm and Blues' (BCRB).
The magazine grew out of an attempt with Charles Auringer (founder / designer / photographer, 'CREEM' magazine) to start a newsletter for the Detroit Blues Society. The newsletter didn't work out, but the partnership led to their founding the Detroit-based BCRB in 1995. Whitall's contributions to the blues have been recognized with a 1998 Blues Foundation "Keeping the Blues Alive Award" and a 2019 Detroit Music "Special Achievement Award."  
It was a life changing event seven years ago that brought him both a new kidney from wife, Shirley Mae Owens, and a return to his long-abandoned pencils and paints. His Outsider Art reflects the vibrant colors of the Caribbean, the spirit of New Orleans and the many blues personalities he has known over the years.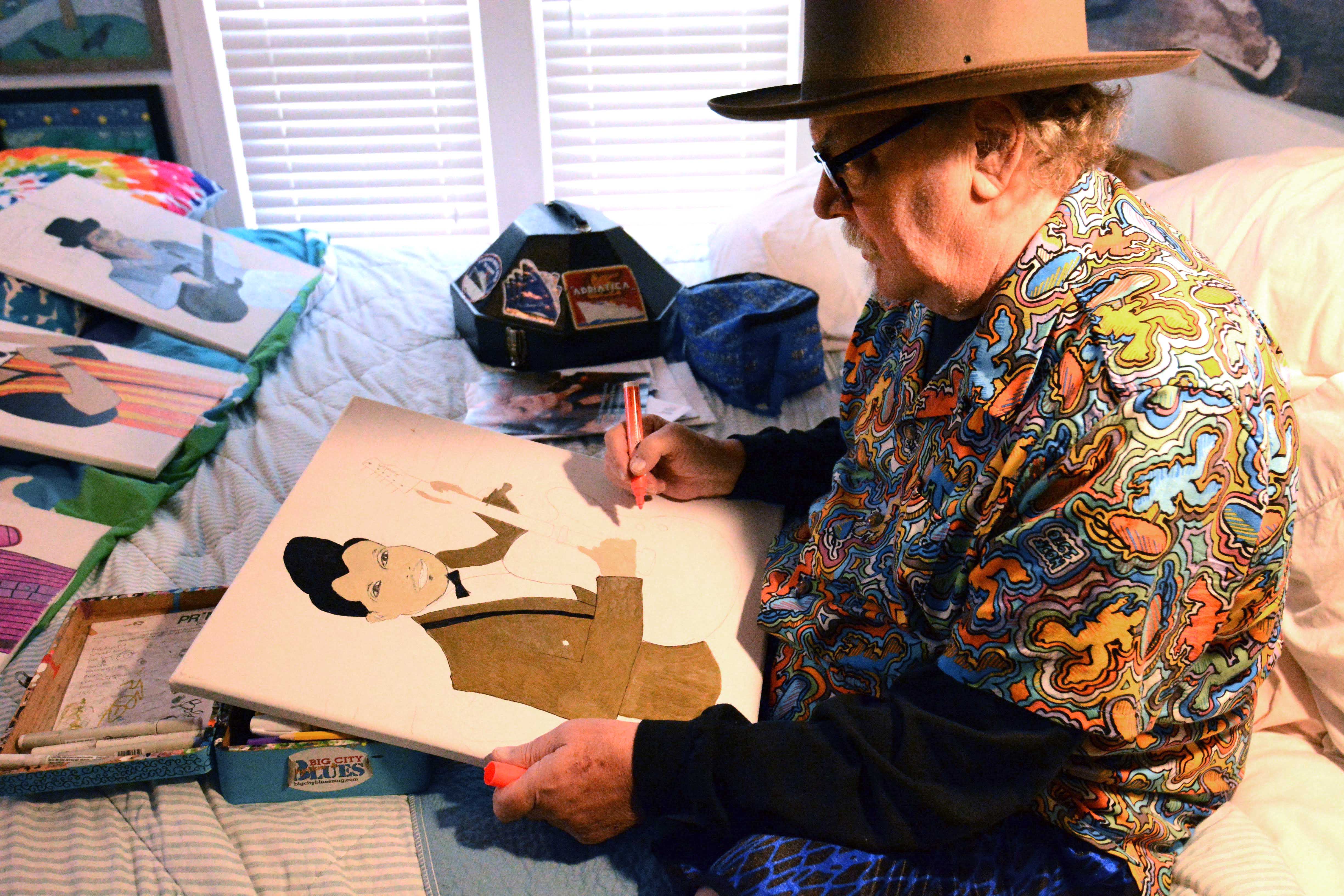 Artist, Robert Jr. Whitall. Photo by Bob Baugh.
What was your first interest in art?
When I was in high school in the mid 1960's, I was into Gary Grimshaw, who did poster art for San Francisco's Filmore West and Detroit's Grande Ballroom. I loved the artwork and psychedelic lettering. I began drawing that type of art rather than focusing on trigonometry. My Dad threw everything out and banned me from taking art classes. He said, "you're going to be a doctor or a lawyer, not an artist." I never did any art until I turned 65, when I got sick.  
It took fifty years to pick up the pencils and paint. What happened?  
In 2013, I was in Henry Ford Hospital for a long time with cancer and a kidney transplant. I published five magazine issues while I was there, but I got bored. So, I started drawing. I found I had a gift. I can sketch a decent likeness of a person in a couple of minutes. That's my talent. I didn't know I could do that. My first painting was, "Happy to Have the Blues," which is also the name of my show.        
One of your paintings is of the artist Frida Kahlo. That's not music; why her?    
Frida Kahlo is my muse.  I had seen a double show at the Detroit Institute of Arts that featured her and her husband Diego Rivera's work. They were both in Detroit in the 1930's while he did his famous industrial murals. She spent a lot of time at Henry Ford Hospital due to back injuries from being run over by a bus in Mexico City. In the hospital, she painted on her back with an easel overhead. I noticed that all those paintings had a little black water tower in the background. Out of my hospital window, I could see Hittsville / Motown, Comerica Park and this little black water tower. One day, I asked the head of the hospital if he knew who Frida Kahlo was. He said, "of course, she was here in the 30's, this was her room." I totally freaked. So, I started painting.
Pencils, sharpies and acrylic paints are your medium. What is your process?
Many of my paintings started in a hospital in a bed. At home I still paint on the bed because I'm physically impaired. It's hard for me to sit up with an easel to paint. First, I take a picture or look at the person and sketch it on canvas; or I may even do it in a little book. If I can get their eyes right, that's the key. I start the figure with pencil and later use sharpies and paint to fill it in with color and do the background. That's my favorite thing, doing the tiny details that take hours. People notice. My Gus Thornton has BB's Jazz Blues and Soups in the background and the Arch is in Marsha Evans.
How would you describe your art/style?
It's Outsider Art. It's not supposed to be Norman Rockwell. It's supposed to be a close assimilation of who that person is. I never had training or art classes. It comes out of my head. I love the breathtaking bright colors of the Caribbean artists. New Orleans is there too. One of my favorite New Orleans artists is Richard Thomas. His Fats Domino on my wall took from Andy Warhol. Nothing is new. People learn and copy from each other.  Doctor Bob is a New Orleans folk artist who puts bottle caps on his frames. I'm using bottle caps on a couple of mine. My RL Burnside has his Budweiser bottle caps from his backyard.
How do you decide what to paint? Any favorites?
These are all my muses. I love all kinds of music. These are people that I'm attracted to. I thought Lena Horne was the most beautiful woman in the world until I met Sugar (Whitall's spouse). I like the old school guys like Buddy Guy. John Lennon and Sly Stone are muses. New Orleans has been a muse and now I'm turning more to Detroit musicians. The next one is always my favorite but I'm never happy. I've done six Muddy Waters but I just haven't gotten it quite right.
Where does artwork fit in your world?
To me painting is the most relaxing thing I've ever done. If I had an hour to live, I'd paint or dance with my wife. When I'm painting, I have no worries, the bills are paid and the magazine is rolling.
The NBM is your first exhibit. What do you want viewers to walk away with?
I hope the story gets out that I did this when I was ill. I think that's the best idea I can bring to this whole thing. Don't give up. Be happy. You're on the planet one time. Enjoy it. I want people to know that here's a talent I had hidden for 50 years. So, don't say you can't sing or play a guitar. Jump out and try it.
Your show runs June 14 - September 3. Any more shows in the works?
Henry Ford Hospital expressed interest in doing a big show. But the NBM and the great people in St. Louis took notice and asked first. I have been asked to do a New Orleans show next year that focuses on my art Indians and musicians rather than my portraits of blues artists. Some of these are in the St. Louis show.
What would you like your legacy to be?
That I shared music and opened doors for people. That's what I try to do. I'm blessed to be here and be able to do that. That I had a wonderful life and surrounded myself with wonderful music. That I inspired younger people. I tell kids, "start now." That's how I got started. John Sinclair told me, "get a camera, take your own pictures."