Music News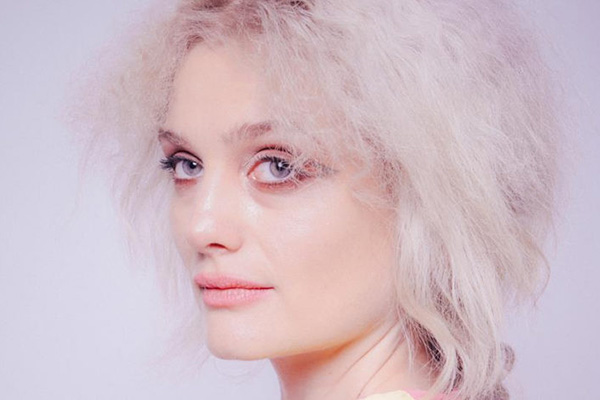 Exploring the Creative World of Alison Sudol
Written by

KDHX
There are many sides to Alison Sudol: actor, director, writer and singer. These are the worlds she inhabits simultaneously as one of today's more interesting contemporary voices. 
Although she is widely known for her appearances in the television series "Dig" and "Transparent," it is her turn as Queenie Goldstein in the films "Fantastic Beasts and Where to Find Them" and "Fantastic Beasts: The Crimes of Grindelwald" for which she is most commonly known amongst wider audiences.
Beyond the blockbusters, Sudol is an accomplished musician, recording four EPs, a live album and three critically lauded studio albums under the moniker A Fine Frenzy before settling on using her real name. Released late last year, Sudol's EP, "Moon" and it's just released follow up, "Moonlite," each represent Sudol's prowess for telling her stories in an intimate setting on her own terms. Filled with emotional intensity both EPs were helmed by Perfume Genius and PJ Harvey producer Ali Chant with musical assistance from John Parish and Portishead members Adrian Utley and Clive Deamer.
Collectively they represent both an emotional journey by an artist and an experiment about the relationship between words and atmospherics.
Sudol spoke with KDHX DJ Rob Levy of Juxtaposition, Wednesdays, 7-9 PM, from England about writing, performing live and her creative process.
Rob Levy: Is there a dividing line between your work as a writer, composer and performer?
Sudol: I think it's a different energy. As a writer and composer, it is very internal. It is a lengthy process of digging and introspection. Everything is coming up. I really love that aspect of creativity where there's a time of discovery and deep delving and a lot of room because at that point you are creating something from nothing, so anything is possible. But also, since the fact that everything is possible is kind of intimidating, there is a very heightened sense of being.  Going into being a performer I have to put on some skin. I suddenly have to interact with human beings that I don't know and have to be forward facing and in public.  I have to pick myself up by my bootstraps because it's a really different feeling.
Can you talk about the process of recording the two EPs Moon and Moonlite?
So, they actually started out as one album. I was writing and recording while making the first Fantastic Beasts film and I was going to Bristol on my off days and working with Ali Chant. It was all just coming out as it did, and I always assumed it would be an album and then we finished the music and it seemed like a lot to take in and it didn't make sense as an album. When I listened to it from top to bottom, I thought maybe it would be interesting to separate Moon which is kind of a bit dreamier and the vocals are treated differently, it's more of a calm album whereas Moonlite is grittier and a bit messier. Moonlite felt like those songs were leading me into somewhere I hadn't yet explored. 
Are you making new music now? 
Yeah, I started the writing process with Ali a couple of months ago here in England and we're going into it again later in the fall. The band is coming out to work and it is going to be really interesting. I've had a lot of life changes this year and I think there's going to be a lot of material from that.
Does playing live help you develop new material?
Playing live really influences the music that is coming. Hugely. What we find that works, what feels good. I think that will be really important for the next stuff that we do.
Has making the two Fantastic Beasts films given you fiscal freedom to do other projects you are passionate about?
Yes. It really met a lot of needs in terms of why I went into acting. I really care about Queenie and the people involved in it. It felt like a really beautiful, big collaborative project where I was a piece of a greater story. So, with that need met I started to realize how deeply I missed music. So, in addition to certain freedoms that it gave me in reaching a wider audience it also pushed me back into music because I realized just how much I really, really need it.
What would you like people to know about you as an artist?
It is an interesting question. I think sometimes, and I'm guilty of this too, when you have an artist that you connected with at a certain time in your life and they had a certain kind of sound or a certain thing they did that really resonated with you, you kind of want them to always remain that way because that is who you identified them as. I guess I want people to know that I am a person evolving and figuring things out. There isn't a grand plan. I'm working out life through art basically. I am so grateful for people who have supported me all the way through and that I am learning as I go.
As a writer, poet and musician what is your writing process?
I think part of it is just going down the road with it. Some things are clear right away. If I start writing and it doesn't have any particular cadence and it tells a story, it's pretty clear that is straight up prose. Sometimes I write things and I feel like it could be a poem or a song, but I don't know how I would sing it without it being awkward, so I guess it's a poem. I try not to get too worried about it because I can get very rigid about it. As I get older, I am trying to relax more about it and focus on just communicating it first and then figuring out where it belongs. If it belongs anywhere. I'll find out.
Has performing these songs live on tour changed your approach to making music?
Because I have not performed live properly for about seven years, I had always had a lot of fear around certain aspects of my voice and fear of not being someone I thought I should be. On this last tour I just started to allow myself to play a little more with different colors in my voice and different dynamics and not be so, again, rigid. I've allowed a kind of curiosity to come into the way I sing and release my voice a little more as well because for a long time, I would always sing very quietly and that doesn't really fly when you are playing in venues with a full band. I just doesn't work. I literally had to sing louder because I could not hear. It's very liberating and I'm excited to cultivate that and see what else I have in my tank and see what else I can play with.
What would you like to do next?
I feel like that because I struggled with depression and anxiety it constantly led me to shrink back from life and made it difficult to be creative and see throngs through. I think going forth I'd like to just expand upon what I'm doing. I'm writing more on every level with my prose and music and there are more potential acting projects in my future that are bubbling. I'm am just excited to play more creatively and allow space for what unfolds to happen without being controlled. 
Sudol performs at the Duck Room on Friday, September 6th. For more information visit www.blueberryhill.com