Music News
Music News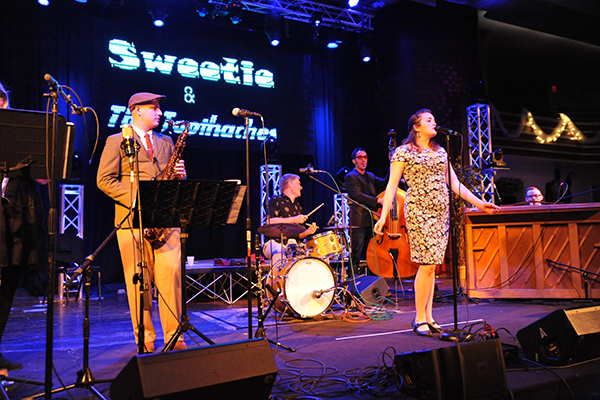 Swinging in St. Louis: Sweetie and the Toothaches
By Ronnie Wisdom
In life, like in music, it's all about the timing. That wasn't on Emilee "Sweetie" Richard's mind that spring night in 2015 as she headed out to go swing dancing.
Ethan Leinwand who had been lighting up the St. Louis music scene with his ragtime and barrelhouse blues was playing at Yaqui's On Cherokee. She wanted to hear him and his visiting boogie woogie piano playing friend, Chase Garret. It would be a consequential meeting for the dancer and the boogie man.  
Richard made an impression on Garret while Leinwand kept encouraging his friend to move here. In St. Louis, Garret found a piano town with a historic blues and barrelhouse tradition of great players like Roosevelt Sykes, Johnnie Johnson, James Crutchfield, Henry Townsend and generations of earlier players. He also found a muse and musical partner in Richard as his repeated visits explored their opportunity to play together.    
Garrett grew up in Iowa City with parents who loved the blues. James Taylor, Stevie Ray Vaughan, Eric Clapton, Tracey Chapman and B.B. King were all part of the music collection. When he got a small keyboard with two free lessons and a Scott Joplin CD for Christmas his mother told the 9-year-old, "make grandma happy, listen to it." He recognized "The Entertainer" because the local ice cream truck played it. The free piano lessons morphed into years of them.
By his teenage years, Garret said, "my lessons were more my bringing in tunes and getting help in learning how to play them." Otis Spann's Chicago style and International Boogie Woogie Hall of Fame member Ricky Nye's playing became favorites. They met at an Iowa house party when Garret was 16 and a friendship blossomed. Nye invited him to his 8th annual Blues and Boogie Summit in Cincinnati where other players also took the teen under their wings.  
Three years later, following his mother's death in 2010, he started his own Piano Stomp tradition in Iowa City in her honor.  Over the next six years he would live and play in France, New York City, Boston, Austria, and Madison WI. The piano bar scene in La Land is the La Caveau de la Huchette in Paris where he plays every year. He was ready to find a place to settle where he could find steady gigs and fellow musicians to play with. St. Louis was calling.
Richard too was a relatively new arrival in town when she met Garret. Already bitten by the swing bug she had moved to St. Louis from New Hampshire. She loved swing and blues dancing and wanted to sing. Her first foray was to sit in with an outstanding vocalist, Valerie Kirchoff and her band Miss Jubilee (now Miss Jubilee and the Yas Boys). They had been tapping into the local dance scene for nearly a decade with a blend of low-down blues, hokum, and hot jazz from the 20s and 30s.
When she met Garret, an idea blossomed: "At the time I was organizing my first ever Blues Dance Event called 'Dance St. Lou Blue' set for the fall of 2015. I thought Chase would be perfect for this, as he's also an amazing blues pianist, so we talked about it during another one of his visits and he agreed to do it! When "Dance St. Lou Blue" finally arrived, we played a total of three slow blues songs that night and everyone absolutely loved them! It was Chase's first time playing for blues dancers and my first time singing for blues dancers and we just had a blast and a half!"
The seeds of Sweetie and the Toothaches had been planted. As Richard tells it: "I didn't really ask him so much as I told him that I was going to sing with him, but he loved the idea anyway so we began working on some tunes during his visits over the next few months." Garrett moved to St. Louis late that fall. By the spring of 2016 they had a loosely formed a Boogie Woogie and Jazz band but didn't really have a specific style or dedicated members. 
By summer things were coming together. "We came up with the name Sweetie & The Toothaches," according to Richard, "after I literally had to have a root canal and then had to have surgery afterwards because the root canal got infected." They also homed in on their sound and style, 1940s through 1960s Jump Blues. The timing for the band's arrival couldn't have been better as it coincided with a renewed interest in swing and blues dancing. 
The history of swing dates to the 1920's, where the black community, mixed dancing to jazz with the Charleston and the Lindy Hop. By the 1930s and 40s the Savoy Club in Harlem and the West Coast were ground zero for swing. Today there are many types of swing. St Louis is noted nationally for its Imperial Swing. In the parlance of the swingers, "it's a 6-8 count version of swing that can be danced in the round, in the slot, and with or without a coaster step."  
The Imperial Swing traces its roots to the Club Imperial in the 50s and 60s when Ike Turner began playing there. He broke color barriers in a racially divided city, attracting both black and white dancers. "St. Louis was kind of prejudiced then, man," Turner would recall in a publicated story, "but kids, they didn't care nothing about race. They were just into music. The dollars don't have no color, so the club owners started letting everybody get in there."  
The Imperial experience led to the 1973 formation of St. Louis Imperial Dance Club and eventually a dozen swing dance clubs in the metro area. One early dancer, Margaret Milster, echoed Turners words: "It all happened at the Club Imperial. We all grew up dancing there. Ike and Tina Turner used to play there on Tuesday nights. So did Albert King and many other artists. It was all blues and R&B." 
You can see it in action today on Saturday afternoon - the Larry Gwaltney Band jam at Johnnies West, a sprawling sports bar and grill in St. Louis County.  Gwaltney, a longtime blues guitarist, tempted this writer when he said, with a grin, "You should come out and see my band, we have a dance following." I bit and when I pulled up for the 2-5 pm show, the parking lots were full, the place packed and the dance floor crammed with an older crowd of swing dancers, many tied to the Imperial Dance Clubs.   
The addition of Sweetie and the Toothaches to the music scene filled a niche. With Annie and the Fur Trappers and Miss Jubilee and the Yas Boys covering the 20s and 30s jazz/blues music/dance scene, the 40s-60s jump blues was wide open. It fit the style Richard and Garret were looking for. Their music appeals to the older Imperial Club dancers and a younger set from clubs like The Lindy Hoppers, The Jitterbugs and The Rebels. 
Following their first show in December 2015 at the Blue Pearl the band began to grow. During the next two years they played a variety of venues including the National Blues Museum and were invited to record their song "Bigger Fool" on the St. Louis Blues Society 16 IN 16 CD. Garret would also continue to do occasional solo appearances and recorded his song "Sailor Man" for the 17 IN 17 CD.   Through 2018 the sound got tighter, the gigs kept coming, and they decided to try and cut a studio CD. 
A failed go fund me campaign led to a sit down with down with their friend player/producer Paul Niehaus. They and concluded it was cheaper to make a live CD than to buy hours of studio time. Garrett who had previous experience with live recordings of his Piano Stomp was good with the idea because, "I love the live energy and a recording of it can make you feel like you are there." Richard, too loved the energy but recognized of the need for humility: "When it's live there is no going back. If you mess up, it's there. That's life." Niehaus who loves to play and record had all the tools.
There was only one place to do it, the historic Casa Loma Ballroom. It's the kind of place where the manager, Tommy, will show you the exact spot his parents met in 1942. Two levels, lots of lights, a big stage and a 5,000 sq. ft floating dance floor.  It was a cold February night in 2018 when they set up to record. Manny, the sound engineer worked with Niehaus to get all the gear set up for a multi-track recording. 
The band was primed. There dancers were there along with dance lessons for newbies prior to the start. Sweetie in her 50s hairstyle and dress and Garret itchin' at the ivories, as the great barrelhouse player Henry Brown used to say, "to be stompin' them down to the bricks." Sweetie stepped out and the band hit it. The dancers danced. The Casa Loma lights put on a show. The band played their hearts out and everyone had a good time.  
Thirteen of the songs they recorded that night are on, Sweetie and the Toothaches Live at the Casa Loma Ballroom. The recording is available on ITunes, CD Baby. Since the recording the band evolved into its current lineup: Emilie "Sweetie" Richard - Band Leader/Manager/Vocalist, Chase Garrett - Rhythm Section Leader / Pianist & Back Up Vocalist, Josh Baumgartner - Horn Section Leader/Saxophonist, Brian McEuen -Trumpeter, Ian Buschmann - Baritone Saxophonist, John Marshall – Percussionist and Jon Weiss - Upright Bassist
Today Sweetie and the Toothaches is a seven-member powerhouse band specializing in a KC Swing and Jump Blues style that attracts a real dance crowd. Garrett, the band's musical director says, "the music is influenced by our love for Count Basie, Errol Garner, Oscar Peterson and always, Otis Spann." 
Although she may be called "Sweetie," don't let the name fool you. When Richards is on stage it's clear who's in charge as she sets the pace and calls the numbers. The same applies to her vocals. At one moment she can be sultry and smooth and pivot in the next to belting out songs like "Bigger Fool" or "Farewell Blues" with power and grit. She is well matched with Garrett who brings exuberance, energy and joy to the stage with his considerable playing skills. 
There's big plans in place for Sweetie and the Toothaches in the new roaring 20s. They are headed back into the studio and planning tours. During the holidays they previewed their next CD in Iowa City playing at the big New Year's Eve party in the Vetro Hotel Ballrooom. Following that Garret and Richard flew to Barcelona to appear at the 16th annual Blues & Boogie Reunion in Terressa, Spain. You can check out their booking and performance schedule at: sweetieandthetoothaches.com.
 Yes, it's been quite a run for Richard and Garret: a chance meeting in a piano bar, a shared love of piano and dancing music, a dream of playing together come true, and a community of musicians, and dancers and friends who believe in them. And, they also found love, too. They were married 18 months ago. The timing was right.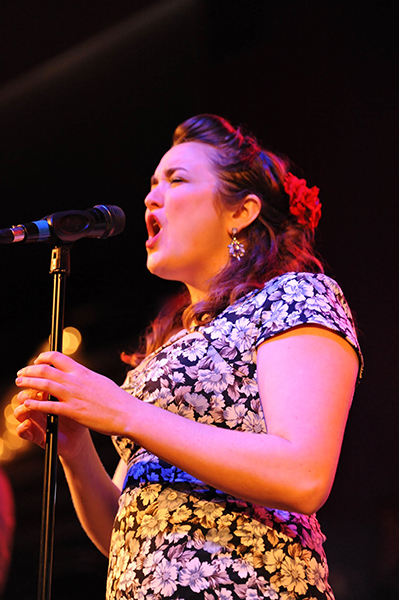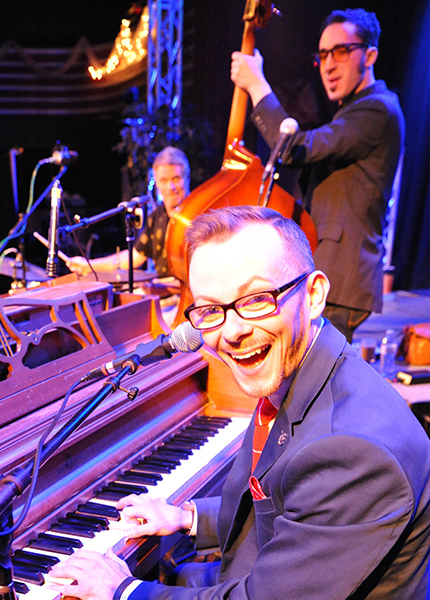 Photos by Bob Baugh.
This article appears courtesy of Big City Rhythm and Blues magazine.