Music Reviews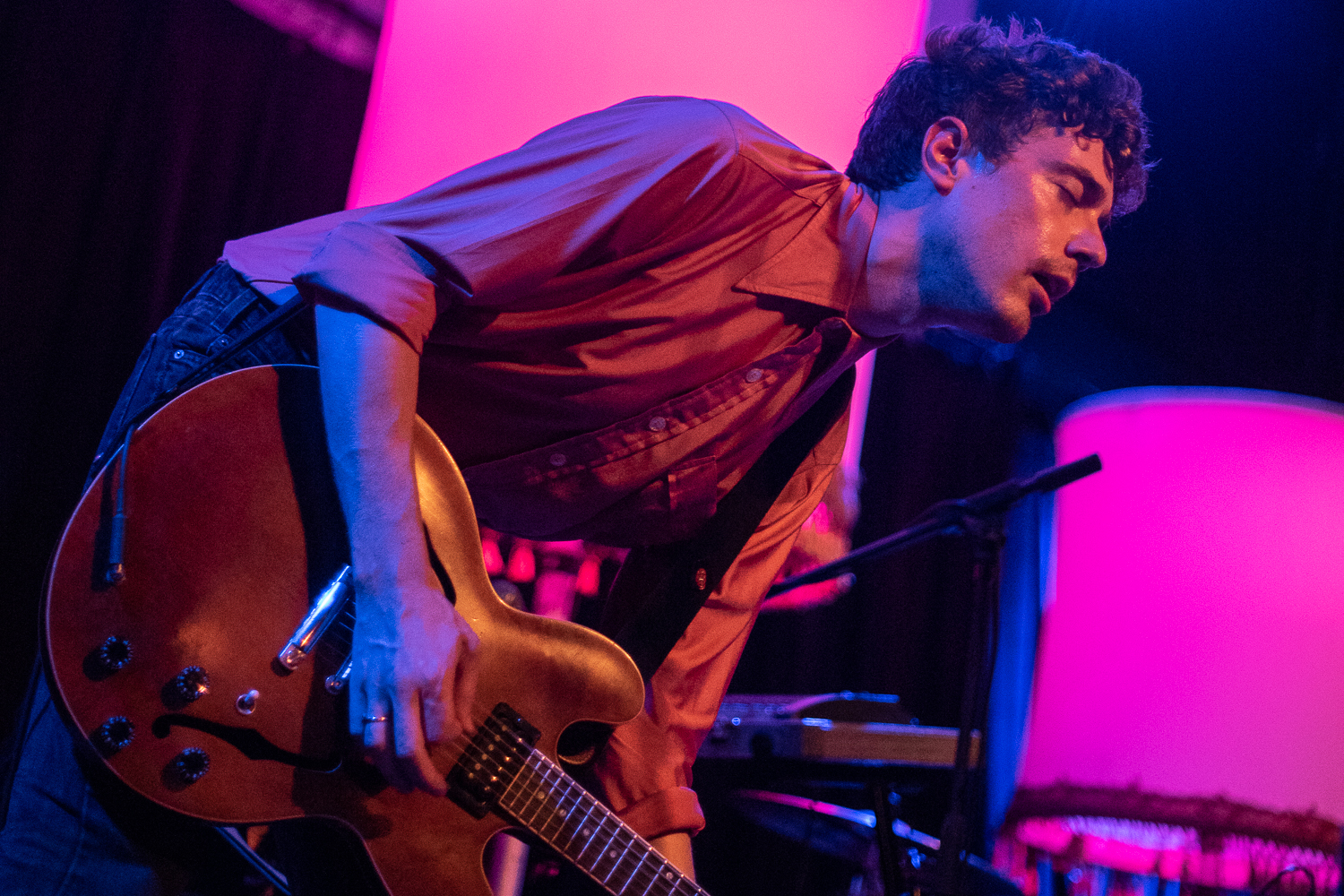 Born Ruffians Return to St. Louis, Older and Wiser
Written by

Robin Wheeler
May 18th wasn't the 100th anniversary of the last time Born Ruffians played St. Louis, although the band speculated it was during their set at the Old Rock House. It's been quite some time since the Canadian quartet graced the city, despite touring with their fifth full-length album "Uncle, Duke & the Chief." The album presents a maturing band tackling mortality, without neglecting their signature jangly guitar, arrhythmic bursts and brute force. 
Toronto punk-pop quartet Little Junior opened the show, riding on the release of their debut album, "Hi," a week ago. With melodic songs played at breakneck speed and a dollop of snark often aimed at the homophobia of the bro-centric music business, they played rough and sometimes sloppy, delving into high-energy feedback-laced jams reminiscent of Born Ruffians a decade ago. 
Born Ruffians opened their set with a dip into childhood, walking up to a stage decorated with three giant 1970s-style table lamps while The Pointer Sisters' "Pinball Count" from "Sesame Street" played. With little hesitation they launched into catchy earworm "Tricky" from the new album. With a solid stomp rhythm and all four members singing the swooping harmony of the chorus, "when are you gonna come home?" they had the audience mesmerized and clapping along like they've been seeing the song performed for years. 
They diverged into older songs. "Ocean's Deep" featured Lalonde's guitar hiccups paired with high Buddy Holly-style yips. Drummer Steve Hamelin recently returned to the band after time off to earn a degree, but his style hasn't changed. On  "Kurt Vonnegut" he provided the band's standard kick drum primal base that drives the erratic rhythms and prompts the audience to clap along to the staggered, stop-and-start beats. No matter how unpredictable the rhythm seemed, the band remained so tight that, if any beat is missed or dropped, it wasn't unnoticeable. It's a sharpness that's easy to take for granted, since it's not noticed unless they slip and that just doesn't happen. 
They continued the aural tricks on "Don't Live Up," with Lalonde isolating the lip-pop on the word "up" as the band dropped out, an acoustic verbal pop. Every sound they made, down to that single consonant, was purposeful. There was no room for sloppiness while they worked with the minutia of sound. 
The more classic pop structure of new song "Spread So Thin" was a necessary break from the erratic jolt of the first half of the set, as engaging as it was. It also was a perfect lead-in to crowd favorite quarter-life angst anthem "I Need a Life," which started a string of songs that had the band leading the small, but enthusiastic crowd in hand-clapping call-and-response sing-alongs. During "The Ballad of Moose Bruce," bassist Mitch Derosier stood at the front of the stage with his arms aloft. The audience followed his lead as he led them in swaying back and forth with an energy that rippled through the rest of the show that included a clap-along "song about death" ("Forget Me"), a birthday dedication to an audience member ("Needle") and a high-octane rendition of "Hummingbird," one of their early songs that recalled their contemporaries Vampire Weekend with super-clean guitar tone. While beautiful, it indicated the evolution of Born Ruffians over the past decade. They haven't wasted time spinning their wheels in a niche sound that became another band's trademark. Instead, they've continued to grow and expand what they can do with their own trademark – that beat, the punk energy and the roller coaster jolt of erratic sonic surprises.
For their encore the band joked with the audience, taking requests and poking fun at an audience member who requested a song they'd already played. "Don't go out for a fucking cigarette," Lalonde chided before the band opened "Little Garcon" with soft harmonic humming that grew into broad vocals and that hand-clap beat. They followed with concert rarity "Red Elephant" by request. 
The ended the show with Little Junior joining them for "Working Together," the final track on the new album. The openers sang along, swayed, and at one point acted out a verse before being joined by audience members who danced on stage with them to the repeat of, "We're working together. Love comes to whoever wants it. All good things are free. Wave to nobody." 
Born Ruffians played at the Old Rock House on May 18, 2018. Check out our Flickr page for the full set of photos by Doug Tull.