Theatre Reviews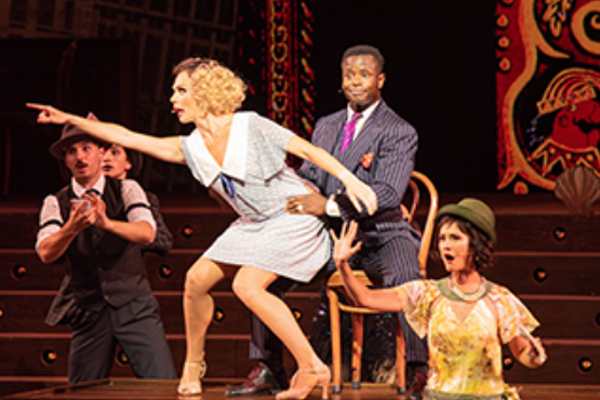 A Long "Intermission" for "Chicago" at St. Louis' MUNY
Written by

Laura Kyro
The MUNY kicked off its 104th, 2022 season with "Chicago," a mere nine months between two shows of the same production.
You see, the truncated 103rd season's last show in September 2021 was also "Chicago," that had to be cut short in its run due to Covid concerns. Here, nine months on, amazingly, the same show (same actors, same sets, much the same everything) is finally finishing that run.
"Chicago" is John Kander (music) and Fred Ebb's (book and lyrics) 1975 musical take on reporter Maurine Dallas Watkins's research into real-life legal corruption and murderous notoriety for women in Chicago, Illinois in the Jazz Age 1920s (original choreography, and partial book credit to Bob Fosse). Velma Kelly (a limber J. Harrison Ghee) is accused of murdering her husband and sister, caught "in flagrante delicto." Roxie Hart (Sarah Bowden) cuckolds her mechanic husband (Adam Heller) with a salesman, whom she kills as he walks out of the affair. Both in prison, they are aided by Matron "Mama" Morton (Emily Skinner), who is on the take along with celebrity lawyer Billy Flynn (James T. Lane). Through song (standards such as "All That Jazz," "Cell Block Tango," "Roxie," Razzle Dazzle") and dance (a LOT of Charleston), we learn that crime does pay, and pay well, at least in this show.
I've seen several versions of "Chicago" here, and in London, and no two have ever been staged precisely the same. I'd say this MUNY version relies more heavily on principal actors and a very large ensemble dancing their hearts out. I'd also say that perhaps it was the heat, or perhaps just Director Denis Jones' vision, but pacing appeared generally slow and languorous, to the point where my attention wandered during some of the slowest songs (usually solos). The pace generally sped up when the dancing ensemble was in play, but precise and measured are the words that appear to fit what I witnessed, when I was looking for a little excitement and energy. But, perhaps, slow and steady wins the race?
Visually, the set (Tim Mackabee) is a winner, easily accommodating the entire cast who were visible on stage most of the show. There's lots of flashy glitter and glam in the costumes (Emily Rebholz). The three large video panels were used generously and to good effect. Fireworks and deft ostrich feather fan work during "Razzle Dazzle" a treat. Choreography: inventive (Denis Jones). Part of the new downstage area is an elevator, and was used aptly several times. Amazingly, I detected only two audio bobbles, but it WAS the second night of the show; I kind of think they changed their policy to press night as the second night to cut down on past consistent comments as to sound problems on opening night! Charlie Alterman led the more than professional MUNY orchestra through their paces.
The approximately 2-hour 15-minute (with 15-minute intermission) "Chicago" runs through June 19, 2022. Visit muny.org for more information.