Articles 2
KDHX Volunteer Spotlight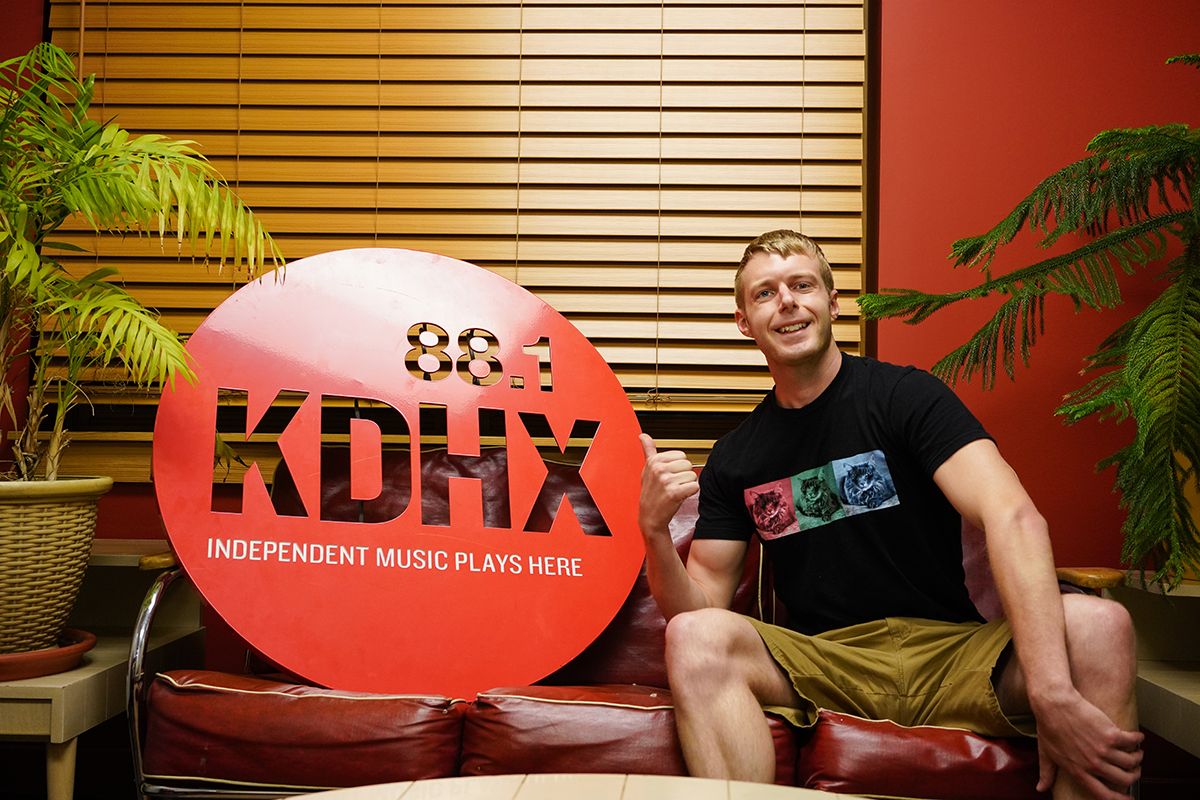 KDHX Volunteer Spotlight: Dan the Waterman
By KDHX
Heavy Rotation:
Mondays | 5:00am-7:00am
For KDHX DJ and volunteer, Dan The Waterman, deep cuts are a constant and, as the name and theme of the show he hosts implies, are always in Heavy Rotation.
Dan is a transplant to St. Louis via central Wisconsin—Appleton, north of Lake Winnebago near Green Bay, to be exact. 
The nickname for Wisconsin is "The Badger State," with a badger featured on the state's coat of arms, state seal, and state flag. But cheese curds and cows come to mind when many think of The Dairy State. Says Dan of the squishy, bite-sized cheese nuggets that literally pop in your mouth: "The best cheese curds are from gas stations, and they are not refrigerated."
His parents, Dan says, "were supportive of an interest in music, as well as open to the different elements that came along." Nonetheless, five-year-old Dan didn't necessarily appreciate the strong push from his mother to play piano as a right of passage. 
At age ten, Dan expressed an interest in playing the drums. His dad, a college professor who is also a drummer, and as Dan explains, "a really good one who plays more of a rock style," found Dan a beginner kit. Dan still plays the drums, though if alone at home he usually plays piano or bass.
 "I prefer melodic instruments that don't have neighbors banging on your door," says Dan. "I definitely play something daily as practice and as a formalized process," he adds.
Appleton "was kind of a cultural black hole when it came to new things," Dan says of his hometown while explaining that he wasn't exposed to alternative music until high school, and even then it was often through other people's influence. Or through music found in a friend's brother's record collection. Or the friend's dad who collected music, an audiophile with a hifi stereo system.
The student-operated college radio station WWSP 90 FM at the University of Wisconsin – Stevens Point, provided Dan his initial foray into the music industry and "the many cogs," as he puts it, associated with —"making it, spreading it around and performing," he says.
These many cogs led Dan to cultivate "a multi-pronged interest in music: play, perform, do video work." But Dan realized fairly early on that "the rockstar mentality — playing/performing — is a tough lifestyle," he explains, adding that he "appreciates a more relaxed approach towards music." And while performing has been enjoyable for Dan, it has taken a back seat to the many other facets of the industry and business of music. 
Thanks to his time with WWSP, and perhaps KDHX as well, Dan "holds a very deep respect and appreciation for radio," he says. It was the second semester of his freshman year when Dan became involved with the college radio station that kickstarted his interest in radio. He also began spinning music as a DJ around this time. By his junior year, Dan held a student position with WWSP, handling numerous duties involved with making radio. He also filled many of the roles which make a radio station run — production director, music director, station manager, volunteer engagement and budgeting, were some of the responsibilities Dan assumed while with the station.
Along with working in radio and the rigors of being a college student, Dan also met his future wife while both attended U of WI–Stevens Point. The two were married after college, a job offer soon thereafter, found his wife relocating to St. Louis. Newlyweds now separated by roughly 475 miles and two states, "living together in the same state seemed the sensible next step for us," says Dan of his decision to also make the move from Wisconsin to St. Louis. Here Dan "found new beginnings," he says of making roots in the area.
Prior to moving, Dan often made the commute to St. Louis from Wisconsin to visit his wife, "usually on Friday nights," he says, adding, "I listened to a lot of radio during those drives." While scanning the car radio somewhere in Illinois within the 80 mile KDHX signal range, Dan picked up KDHX 88.1 on the FM dial. "I really enjoyed that Friday night programming," Dan says of discovering KDHX. "Once I moved here, KDHX was one of the first places I reached out to."
Dan's volunteer efforts at KDHX started with various production jobs and the recording of a podcast that "did not make it to air for reasons beyond my control," he explains. 
Whether subbing for other DJs, producing content or programming playlists, Dan has put in time and dedication while building his KDHX credentials. It paid off with the approval of his radio show application – Heavy Rotation was added to the KDHX schedule in 2019, first airing on Monday, Sept. 23. 
Heavy Rotation is a reincarnation of the show hosted by Dan, while music director at WWSP. Says Dan of the show's structure, "It is meant to give homage to the old radio format where new music received heavy rotation, older music medium and light rotation."  In its current form, Heavy Rotation places an emphasis on recreating what was going on while Dan was at school at Stevens Point and while associated with the station.
 "I took a branch from my college radio station and am building on that branch." Dan says, adding, "Heavy Rotation is like a little time machine that keeps on evolving." He elaborates, "It is also a chance for discovery…if the album art or band name is cool – or whatever peaks your interest. The Heavy Rotation concept, when done right, is hopefully something that keeps perpetual, with discovery in nature." 
To keep up with the vast amount of new music available, Dan references "a few different formats–artists, charts, social media…I still love having the physical CD," he adds, "and will play whatever I can from digging in the KDHX CD library stacks." For the brand new singles and such, Dan says he "uses the new music library from front to back as part of his ritual."
"The KDHX music library is not an easy thing to curate," he adds, chuckling.
In addition to playing music for others as a KDHX DJ and volunteer, "I really enjoy cooking, having a small garden, and taking advantage of being outside," Dan says. He also plays board games and admits to wrapping a lot of activities around friends and music. St. Louis sport teams are also on his radar.
"You can't meet people in St. Louis without being somewhat into sports," Dan says, adding "I usually get to a few Cardinal games." 
Dan and his wife like to travel. "We try to go to a few different places every year, and get out of town," he says. Dan's travels also include road trips with friends that are chronicled through photography and video. 
His day job as a Systems Engineer/Data Analyst for a software developer provides flexibility in scheduling and allows Dan spare time to pursue his many interests. "Creative things are not really a money making venture," Dan says of those many interests, "but they do give me total complete freedom," he adds. 
About KDHX and those who have yet to discover the station, Dan says, "there is something for everybody. Find DJs or shows you dig and utilize the archive or playlists to tune in." 
Dan The Waterman is one of the many volunteer voices who make KDHX possible.
First record ever bought? 
"Europop" - Eiffel 65
Favorite newish band? 
DISQ - a young Rock band out of Wisconsin doing some really neat things.
Last live music show attended? 
Funk Jam @ Pop's Blue Moon (featuring: Ronkat Spearman + Luke Sailor + Lynt + Dr. Slappinstein)
Best live act ever seen?
I sprained both my ankles witnessing Bootsy Collins at Bonnaroo 2011.
Favorite KDHX Program(s), other than yours?
There's a lot of great shows I tune into weekly or catch on the archive. To name a few: Serious Journalism, Positive Vibrations, Old Soul Harmony Show.
Heavy Rotation: Mondays | 5:00am-7:00am on 88.1 FM, or listen anytime at kdhx.org