Cabaret
Cabaret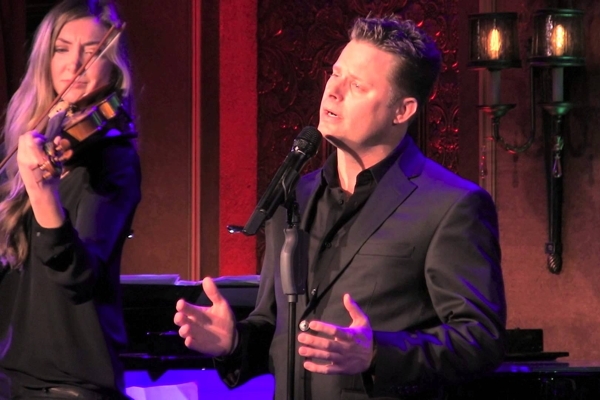 Jeffrey M. Wright gives 'The 40s -- Theirs and Mine' a fresh take with a compelling sound
By Tina Farmer
Actor and singer Jeffrey M. Wright takes a broad approach when defining "the 40s" for his current solo cabaret. The varied musical selections and arrangements demonstrate that the number can be quite entertaining, whether it applies to an age or era. It also helps that Wright has good range and a wonderful quality to his voice that wavers between silky smooth and slightly gritty, enabling him to comfortably bounce from ballads and torch songs to classical musicals and rock and roll without missing a note.
"The 40s -- Theirs and Mine" reflects Wright's wide-ranging musical interests, and he connects the songs with smartly edited personal stories that build on and complement each other. By the last song, the audience has a clear sense of who Wright is, where he came from, and why it might matter to us. That's not to suggest that Wright is self-centered or ego-driven, but more that we get the sense of a complete and interesting character as revealed through each song and linking dialogue. Wright, along with his pianist and collaborator, creates a story arc that begins with wistful ideas and finishes with a heartfelt embrace.
Wright's thoughtfully curated show opens squarely in the 1940s, an era that suits his range and vocal quality while emphasizing his ability to interpret a song. He kicks off the show with "I'm So Lucky to Be Me," a mellow, up tempo piece that reflects Wright's "good guy next door" personality and easy going charm. Wright is personable and clearly comfortable with an audience, and his interpretation of "Sentimental Journey" is the first of several songs that feel like a conversation among friends. The effect is intimate but doesn't feel like oversharing, and the result cozy and inviting.
Wright shifts from a bygone era to songs from his formative years, including Garth Brook's rousing "Alabama Clay" and the influential "Blueberry Hill," both of which allow Wright to capitalize on his naturally textured, pleasant baritone. A story about his current home, a cute gingerbread bungalow in south St. Louis, leads into a languid, dreamlike version of "If These Walls Could Talk." Though the lyrics hint at a lingering sadness, Wright's delivery feels reverent and sincere. He then lightens the mood with a hopeful, open-ended take on "Don't Fence Me In" and an enthusiastically syncopated and snappy "Swinging on a Star." Both are persuasively smooth, and Wright shows a nice touch with the high notes, holding them just long enough to add an ebullient flourish.
A story about his grandfather segues into a humorous take on the "VD Polka," a novelty tune from the early 70s. This leads into the story of the first time Wright sang publicly, and a ballad-like rendition of "Hooked on a Feeling," a popular hit that stood out in his childhood memories. Rounding out the story of "him" is an interpretation of U2's hit "I Still Haven't Found What I'm Looking For" that comes across a little slower and sadder than the band's version, but with a tone that's pleading, not begging. The effect feels introspective and humble, and the arrangement an effective, visceral take that renewed my interest in this overplayed classic.
Wright shifts back to the American songbook for a grateful take on "Oh, What a Beautiful Morning" that features a number of clear, soaring sustained notes, and he closes the show with "I'll Be Seeing you in All the Old Familiar Places." That song included a heartfelt crack in his voice and a perfectly rich and rounded tone that enveloped the room with warmth. While I would personally enjoy more selections from his 40 years, and to see more of the contemporary Jeffrey M. Wright, his carefully curated show plays on his strengths as an actor and singer while creating a satisfying story arc.
Wright's most recent performance of his popular solo cabaret "The 40s -- Theirs and Mine" was presented March 5, 2016 as part of the Gaslight Cabaret Festival at the Gaslight Theater. The show is an enjoyable soundscape punctuated by engaging, entertaining stories that add depth and context to a thoroughly charming set.