Cabaret
Cabaret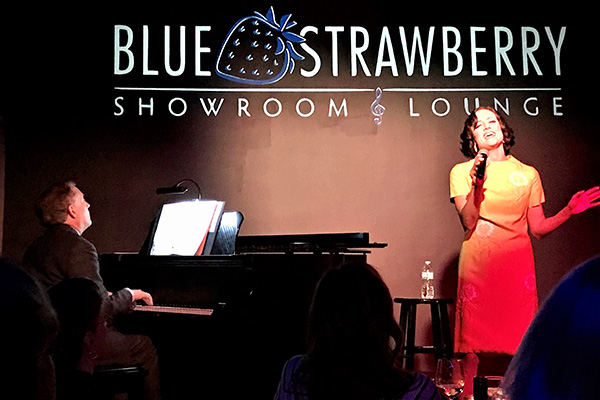 Review: Katie Karel wows the crowd at the Blue Strawberry
By Ronnie Wisdom
Kansas City's Katie Karel made her St. Louis cabaret debut at The Blue Strawberry with a Bang!
Katie wowed the crowd with powerful vocals, great song selection, beautifully interpreted lyrics and delightful banter. With her pale-yellow vintage designer sheath dress, matching yellow heels, dark lovely locks and pale translucent skin, she was very much the image of Rachel Brosnahan as The Marvelous Mrs. Maisel. Not only is there a strong physical resemblance, but she sounded eerily like the star. Katie is also quite a funny and gifted comedienne. Her set could have easily been described as stand-up comedy with great singing. But it wasn't all comedy. Katie bared her soul with a personal story of her battle with cancer. A battle she is proud and grateful to have won. It was deeply moving, and she won the heart of every person in that room.
St. Louis audiences last saw Katie in Max & Louie's Production of Indecent and many cast members from the show and producers De Kaplan and Stelli Siteman were there in support. Katie took the time to thank them and congratulate them on the multiple awards for which they, and the production have been nominated. I had the great pleasure of working with Ms. Karel in that show and it was then I became a fan. Her musical director is the talented and versatile Ron McGowan, with whom she also worked in Indecent. Ron played and accompanied Katie's solo show in a way that allowed them both to shine. 
The show consisted of songs mostly from the American musical theater. And she belts out a Patsy Cline medley that would give any impersonator a run for their money. 
Katie sang some of the most challenging pieces from the musical catalogue including, "Sunday in the Park with George", "Coronet Man", "The Man That Got Away" and "Gimme Gimme". Her rendition of Stephen Sondheim's "Losing My Mind", was so raw and emotional, several seconds of total silence passed before the crowd then erupted with appreciative applause. It was a chilling and unforgettable moment.
She closed the show with "Cabaret" and invited the audience to sing along . They exuberantly lent their voices to the familiar show tune and leapt to their feet in appreciation at the end. So, allow me to borrow from Ms. Karel and misters Kander and Ebb when I say "What good is sitting alone in your room? Come hear the music play. Life is a Cabaret, old friend, Come to the Cabaret".
Unfortunately, if you missed her brilliant one-night appearance, you'll have to wait for her to return, or head to Kansas City where she is a local theater favorite.
The good news is there are many great, new artists appearing at Blue Strawberry all the time, so you can discover for yourself how entertaining a night of Cabaret can be. The food and beverages are great so you can make a night of it.