Cabaret
Cabaret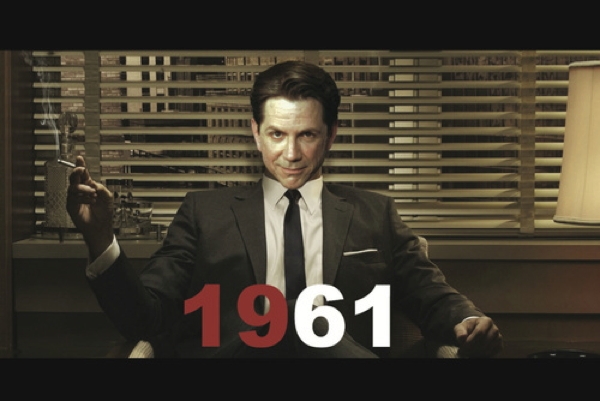 Cabaret review: Take a trip in the way-back machine with Tim Schall's '1961'
By Super User
Cabaret veteran Tim Schall shines a warm light on the craft of cabaret with the highly entertaining "1961," a musical exploration of his birth year. His style is easy going and his collection of songs from a past era extensive, enabling his to shift gears in response to the mood and fancy of his audience. Schall masterfully combines well-researched details and historical bon mots with song and a touch of theatrical flair. The resulting show is an evening fans of music and history, even those of us less familiar with the original material, will likely find pleasing and entertaining.
Schall regales us with stories of St. Louis's famed Gaslight Square, mentioning a handful of clubs by name and polling the audience, several of whom remembered visits to those clubs and others. After sprinkling in a few facts about the area, he shares a story about a young woman opening up for The Smothers Brothers: Barbara Streisand. A Babs-like gesture or two later and we're into a thoughtful rendition of "Soon It's Gonna Rain," with some satisfyingly round, sustained low notes.
At another point, Schall references the square as the "Greenwich Village of the Midwest" before launching into a story about Bob Dylan capped off with his "Song to Woody." The two songs, and a lingering, slow-tempo interpretation of Carole King and Gerry Goffin's "Will You Still Love Me Tomorrow," are highlights from the opening section of his set. The three utilize smart arrangements from Schall and pianist Carol Schmidt, layering in harmonies from the two as well as multi-instrumentalist Michele Isam, and accompanied by bassist Ben Wheeler, who adds steady rhythm.
Schall isn't all St. Louis or all serious in "1961," however. He chats with the audience, makes fun of his hat and abundant hair -- something to be proud of at his age, he asserts with a wink -- and follows a cover of "The Protest Song" with a perfectly silly song about outer space. Giving a nod to his own childhood memories, he later throws in the Disney tune "Cruella De Vil" as well as a racy song about Adam and Eve, effectively lightening the mood with bits of musical humor throughout the evening. Schall's storytelling encompasses personal memories, musings on the rise of the singer songwriter, and an abundance of pop culture references that add context to the selected songs.
Schall's voice is mellow and rich, and he knows his range well, holding or appending a note and skillfully interpreting his selections to control the feel of the room as effortlessly as he controls his voice. His stylish dark suit and cap suggest a bohemian, jazz-influenced approach to pop music that he backs up with his arrangements and choices. He counters all that vocal control with a laid back, conversational presentation that connects with the audience even as it feels part of a carefully woven story. The effect works well, lending a sense of nightclub authenticity and grit that evokes the pinnacle of Gaslight Square's popularity.
Since all the songs selected were written or released in 1961, Schall includes a few gems from the early days of rock 'n roll: the popular "Runaway" and "Give Me Money," a catchy tune by "four lads from Liverpool who were just getting started." He also mixes in a number of popular hits, such as Nina Simone's "Forbidden Fruit" and Bobby Darren's "Up A Lazy River," that emphasize the wide variety of musical styles popular during the optimistic years of the late 1950s and early 1960s. Schall closes the evening with a gospel-flavored medley that references the burgeoning civil rights movement and a moving, heartfelt rendition of "Moon River," the year's Oscar-winning song.
Schall's ability to glide between popular genres and deliver consistently enjoyable and musically on-point interpretations is testament to his talent as an artist and storyteller. The trio of Schmidt, Isam, and Wheeler add depth and dimension to the show, providing a perfect backdrop for Schall's playlist. The four clearly have a close rapport, and their ability to play with and off each other behind Schall's lead adds to the enjoyment. His ongoing dedication to the art of cabaret helped reignite the flame in recent years, and his annual cabaret festival is a welcome addition to the St. Louis performing arts calendar. "1961" is an opportunity to see Schall in his element, mixing storytelling, history, and memorable songs from a bygone era into a compelling evening of music.
Tim Schall performed "1961" at the Stage at KDHX on February 26, 2016. Information on upcoming cabaret shows in the St. Louis area can be found in the KDHX Arts and Events calendar.