Cabaret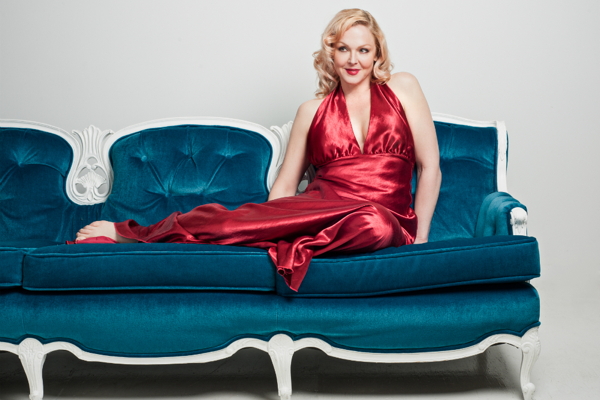 Despite recovering from the flu, Storm Large and her band Le Bonheur deliver a big, bold, bawdy show.
Singer, songwriter, actress, author, and agent provocateur Storm Large made her fifth St. Louis appearance in the last four years this past Wednesday (January 17, 2018). Having seen and very much enjoyed two of her previous shows at the Gaslight Theatre, I knew what to expect: an exuberant mix of Great American Songbook standards, rock, and pop, along with some French chansons, all delivered with the power of rock and roll and the emotional honesty that is the hallmark of cabaret.
Neither I nor the many fans who packed the Sheldon Concert Hall were disappointed. From the now-familiar borderline psychotic cover of Cole Porter's "I've Got You Under My Skin" that opened the show to the pair of original songs that closed it, this was classic Large. It was big, bold, bawdy, and emotionally real, and a good time was had by all.
Yes, her raucously funny and emotionally frank patter rambled a bit more than usual, resulting in a show which, at just under two hours, was maybe a bit too long. And her voice, still recovering from the flu that's running rampant through the nation, was more raw and less dark and rich than it has been in the past, sometimes rendering lyrics and even melodies incomprehensible. But even when Ms. Large goes all the way over the edge instead of stopping just short, she's still a magnetic presence.
As always, Ms. Large and her merry band had entertainingly original takes on familiar tunes. Her take on Porter's "It's All Right With Me" combined seduction and mania in a way that suggested Marilyn Monroe on speed. Her version of Jacque Brel's "Ne Me Quitte Pas" suggested that there might be a good reason why the object of the song's plea was leaving. And she brought a searing intensity to Prince's "Nothing Compares 2 U."
Her interpretation of Elton John and Bernie Taupin's "Goodbye, Yellow Brick Road," on the other hand, was pretty straightforward. The patter that introduced it was another story, hilariously examining the way song lyrics could be misheard back in the days when you couldn't just Google them on your smartphone.
The Storm Large originals were welcome, as always. Her next to closing song, "Angels in Gas Stations," was a beautiful little slice-of-romantic-life poem ("God is every damn where tonight," runs the refrain). And the final number, "Stand Up For Me," took a nicely poetic idea--what would Love ask of us, if it could speak?--and made it the basis for a deeply felt anthem. "Be the light. Be the answer," goes the lyric. "Be the music in the dark. Stand up for me, and I'll stand beside you." In these days of darkness, it's an inspiring message.
Accompanying Ms. Large were pianist and music director James Beaton, guitarist Matt Brown, bass guitarist Scott Weddle, and drummer Greg Eklund. Collectively known as "Le Bonheur", they've been playing with Ms. Large for years, developing an almost telepathic rapport with her that allows them to easily adapt to her freewheeling performance style. These guys really know how to rock, but they can also sing in gorgeous four-part harmony when the song calls for it. I'm impressed.
Statuesque, slinky, and vocally versatile, Storm Large is a lean, mean entertainment machine, and it's always good to see her on stage. "We have quite a few fans in St. Louis," she observed in a recent interview for St. Louis Public Radio, "so it's kind of like a coming home usually for us." For those fans, I expect the feeling is mutual.
The appearance of Storm Large and Le Bonheur was produced by Jim Dolan's Presenters Dolan organization. Their next event is a return engagement on February 10th of Katie McGrath's superb Significant Others show, first seen here at the Gaslight Theatre last November.