Community Connections
Community Connections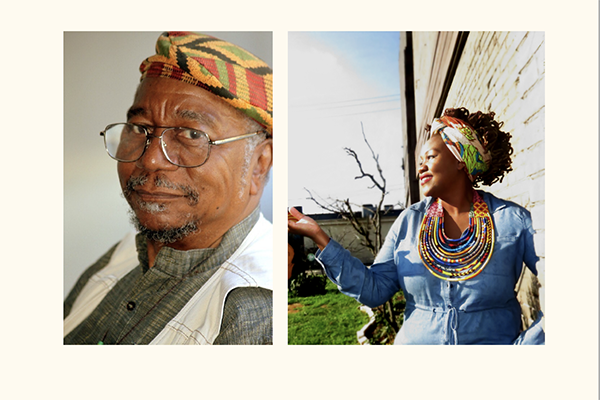 The Poets Redmond To Explore Black Identity
By Ronnie Wisdom
Dr. Eugene Redmond is a local legend with an international reputation for his life's work as a poet, scholar, activist and mentor. 
On Tuesday, October 20 at 11:30 a.m. he and Dr. Treasure Shields Redmond are featured in a session titled "From Black Power to Black Lives Matter: An Intergenerational Conversation & Performance" at St. Charles Community College via Zoom. The event, open to the public, will be live-streamed at stchas.edu/democracydays (no Zoom link required) in a co-production by the SCC departments of history and English along with SCC Democracy Days. 
This is a rare opportunity for the public at large to learn directly from two distinguished teachers, father and daughter, who are sure to explore and express black identity in edifying ways. 
Eugene B. Redmond was born in St. Louis in 1937 and grew up in East St. Louis. He was educated at Lincoln High School, SIU-Edwardsville and Washington University. He co-founded and edited the East St. Louis Monitor in 1963 and contributed to a wide range of publications. As a poet, teacher, writer and activist, he interacted with many of the powerful figures of the black power movement – hosting a visit in 1967 to East St. Louis by H. Rap Brown; reading poetry at the Sheldon in 1968 in an event headlined by an address from Stokely Carmichael. Such encounters were numerous. Redmond also circulated among the Black Artists' Group (BAG), a local collective from 1968-72 that reflected the aspirations of the national Black Arts Movement. BAG embodied the kind of blended vision Dr. Redmond has always possessed of upliftment of Afrocentric consciousness through poetry, jazz, dance, theater and other artistic expressions. Their works were connected to the community and to the tumultuous times in ways that "art for art's sake" would never articulate. 
From 1970-85, Dr. Redmond served as Professor of English and poet-in-residence at California State University-Sacramento during which time some of his best known books were published including Drumvoices: The Mission of Afro-American Poetry: A Critical History (Anchor Press, 1976) and the poetry volumes River of Bones and Flesh and Blood (1971), Songs from an Afro/phone (1972) and In a Time of Rain and Desire (1973) among others. More than any single individual, he has kept alive the legacy of the poet and fiction writer Henry Dumas. Dr. Redmond has been the recipient of many honors and awards including being named, in 1976, the Poet Laureate of East St. Louis.  
"I have been tattooed for life: 
A thought called EAST ST LOUIS
Is etched on each island of my brain
EAST ST LOUIS will rise!
Will rise from the muddy gutty Mississippi.
Will rise disguised as AFRICA.
WILL RISE! 
WILL RISE THROUGH MIND EYES"
— Eugene Redmond from "CARRYOVER" (Drumvoices Vol. 1,  Nos. 1 & 2)
Dr. Redmond returned to ESTL in 1985. teaching at SIU-Edwardsville and continued his multi-faceted cultural works. A Eugene B. Redmond Writers Club was established in his honor. In 1991, he founded Drumvoices Revue: A Confluence of Literary, Cultural and Vision Arts, a journal for interdisciplinary works. 
While Dr. Redmond's works have been collected in Arkansippi Memwars: Poetry, Prose & Chants 1962-2012, he does not have a memoir as such. To address this lacuna, in 2018 he and the younger Dr. Redmond began a podcast series titled "The Memoir My Dad Wouldn't Write." In conversation on a broad range of topics, they probe such things as "What Does It Mean to Come to Consciousness," "Love in a Time of Corona" and "My Dad and Toni Morrison."  
Treasure Shields Redmond is a compelling personage who integrates teaching, writing, activism and entrepreneurship. She has authored 52 Social Media Inspired Poetry Writing Exercises and Chop: A Collection of Kwansabas for Fannie Lou Hamer, both published under her imprint Feminine Pronoun Consultants, whose motto is Poetry, Pedagogy, Justice. Her poetry has also appeared in Sou'wester, Sententia and other journals. 
The civil rights activist Fannie Lou Hamer (1917-1977) has been a guiding star in Redmond's cosmos. Hamer advocated courageously for voting rights and economic empowerment for southern African Americans and faced a lot of public pushback and covert undermining by the likes of COINTELPRO and FBI. "She remained bound to justice to the end," said Redmond prefacing a reading of Chop's last poem, "Bound," which also included the sung voice. 
Redmond co-hosts a retreat space called the Fannie Lou Hamer House, which provides "a socially just, urban oasis" inspired by Hamer's Freedom Farm Cooperative catering to local and visiting "changemakers and creatives."
Her work as an educator takes place in the classroom (well, the Zoom room for the moment), at public readings, in workshops and as a consultant. She runs Get the Acceptance Letter, whose mission is guiding parents and college-bound teens to obtain a "top tier education without massive debt." 
Watch her introduce and perform her poem "Bound."
Don't miss "From Black Power to Black Lives Matter: An Intergenerational Conversation & Performance," which airs live and will be archived at stchas.edu/democracydays.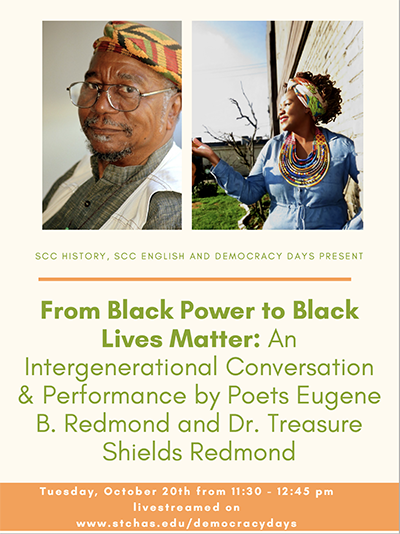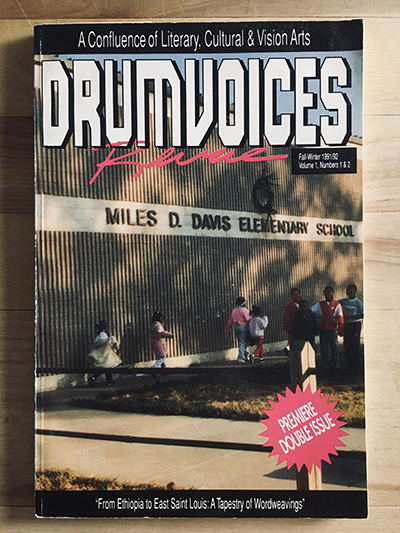 Copy of Drumvoices Revue: A Confluence of Literary, Cultural and Vision Arts, a journal for interdisciplinary works.