Community Connections
Community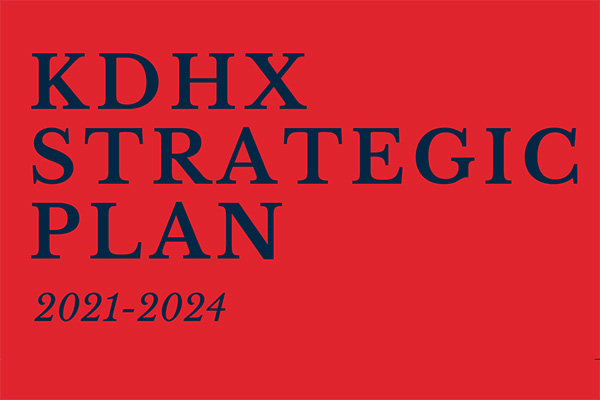 KDHX Update From Executive Director Kelly Wells
By Ronnie Wisdom
As we move into the second quarter of the year, I am excited to update you on our first quarter.
I last wrote to you in November of 2020 when I shared about KDHX's commitment to racial equity and announced our 2021-2024 Strategic Plan. As we continue to seek accountability as a community organization, we take seriously our role in reporting to you our successes, our failures, and our progress. Throughout this year, each member of our staff leadership team will be sharing their perspective on how KDHX is doing, through the lens of their department and their role on the leadership team.
The first quarter held foundational planning time for staff. We spent a great deal of time focusing on the Year One goals of the strategic plan and how to accomplish those goals. Beyond the "how" we also asked "who". Who are the partners that we need by our side to accomplish not just our goals, but a true leaning into our organizational values? While we haven't fully answered the question of "who?" we are committed to continued inquiry because we believe that as organizer and writer Mariame Kaba says, "everything worthwhile is done with others." 
In partnership with our board, we've begun the process of fulfilling our 2021 strategic plan goals. Our board is engaging in board development training. We are working with Crossroads for anti-racism training for the board and staff so we can continue to learn how to identify and dismantle racism within our organization. We have embarked on a path to "operationalize equity" that will include the input of the board, staff, and volunteers and create a racial equity framework so that we can drive equitable outcomes and address racism as an organization and as individuals. Our donor relations team is studying community-centric fundraising and we have increased communication with volunteers, donors, and listeners.
All of this work is eased by the fact that KDHX continues to be on solid financial footing, enabling us to focus on learning, growth, and improvement. 2020 was a difficult year in many ways for KDHX: we saw our underwriting program dry up overnight, we were no longer able to offer music and educational events in person, many of our volunteers began recording their radio shows remotely, and staff transitioned to working from home and getting used to connecting over Zoom instead of in person. What could have been a detrimental year for KDHX became one of growth and perspective. We focused on doing what we do best - leveraging the power of music and education to bring people together. Our staff tirelessly supported our volunteers who worked so hard to continue to bring independent music to the airwaves, providing refuge, solace, joy, and entertainment in a year when we needed it so badly. 
In turn, KDHX listeners supported more than ever. In a year of financial uncertainty, we saw our listeners and donors get creative in how they supported KDHX whether it was donating a vehicle or adding more to their long-time giving. We heard from so many of you about why KDHX is important to you. Through your financial donations, KDHX thrived, ensuring that the solace, joy, and entertainment you were experiencing from KDHX was available to everyone through the airwaves and ensuring our continued ability to fulfill our mission of building community through media. We continue to carefully steward KDHX finances, reducing debt, investing in infrastructure, fundraising, and planning for the future.
Reflections are an important aspect of life and important for any leader. 2020 provided more reflection time than usual and for that, I am grateful. I'm proud of what we accomplished together in 2020 and I'm excited about what we'll accomplish in 2021. Our strategic plan provides a roadmap. We will focus on engaging community and expanding our audience, building anti-racist capacity, and increasing our financial stewardship and management. The work won't always be easy or comfortable, especially when it comes to building anti-racist capacity. We are resolute in our commitment to this necessary work as individuals and as an institution. 
As KDHX uses the power of music and education to engage and unite individuals and communities, poet and media activist Malkia Devich Cyril teaches us that "accountability isn't something anyone can hold another to, it's something we can help each other be." Each day I understand a little bit more about what "community" and "accountability" actually mean. Thank you for being a part of our KDHX community and for being accountability partners. 
Look for future posts from our leadership team, Ronnie Wisdom, Andrea Dunn, and Andy Coco. I'm excited for you to hear from them. 
In community,
Kelly