Community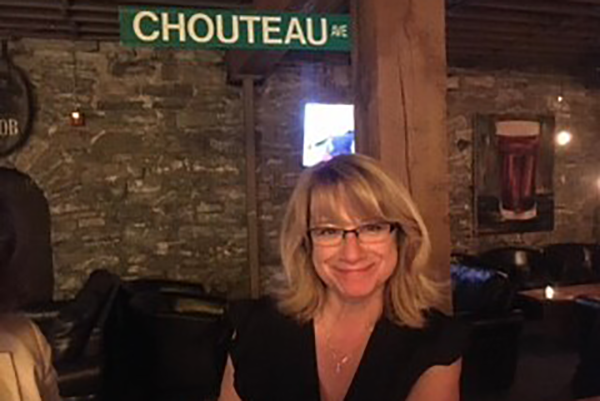 KDHX Donor Spotlight: Marie Chouteau Mathes
Written by

KDHX
KDHX Donor Spotlight
Marie Chouteau Mathes has been supporting KDHX for over two decades. She supports KDHX financially with a monthly donation and last spring she recorded a terrific donor testimonial for our Spring Drive. She was very excited to share why KDHX is an important part of her life through this Donor Spotlight. We thank Marie for being a great KDHX ambassador and for the many ways she contributes to keep the joy of discovery and the power of music thriving at KDHX.  
Tell us about yourself: 
I love live music and my husband and I travel often to see shows. We also try to make it to the New Orleans's Jazz Festival, or Jazzfest, every year.
How long have you been listening to KDHX?
I have been listening to KDHX since 1989. As I like to say, since the bumper stickers were green and purple!
Do you remember when you first discovered KDHX? Do you have a KDHX "origin story?"
In the late 80's, I was a waitress at the Key West Cafe in Union Station. A co-worker had an apartment in Soulard. We used to go to her place after work and party. It was at those late night parties that I discovered KDHX. My siblings may have turned me onto the Grateful Dead, but it was the shows I heard on KDHX that turned me into a Deadhead.
Why is KDHX important?
KDHX is a huge part of what makes Saint Louis so diverse and so cool! KDHX is as important to Saint Louis as The Cardinals and The Blues, AB, Forest Park, Mardi Gras and Saint Patty's Day and every other iconic thing and tradition we love in Saint Louis. I love hearing musicians I have never heard before and hearing my old favorites
Do you have any favorite KDHX programs?
Tuesday is my favorite day on KDHX. I am a big fan of Drea's show, The Other One. Her show rolls right into another favorite, Jim Bruce's show, Higher Ground. My all-time favorite show that I love is Howzit Bayou? Laissez les bon temps rouler!
How do you listen to KDHX? Live radio? Via the stream? Through the recorded archives?
I have KDHX on my radio 100% of the time. When I can't tune into my favorite shows, I listen to the recorded archives. Many times I will hear a great show on the radio, then I come home and play the show from the archives for my husband.
Is there anything else you would like to share about how KDHX has impacted your life?
KDHX has been my musical best friend for as long as I can remember. It has provided me with the soundtrack to my life! I have been a monthly donor for years, and will continue to do so every month! I cannot thank the folks at KDHX enough for all they do!