Community Connections
Community Connections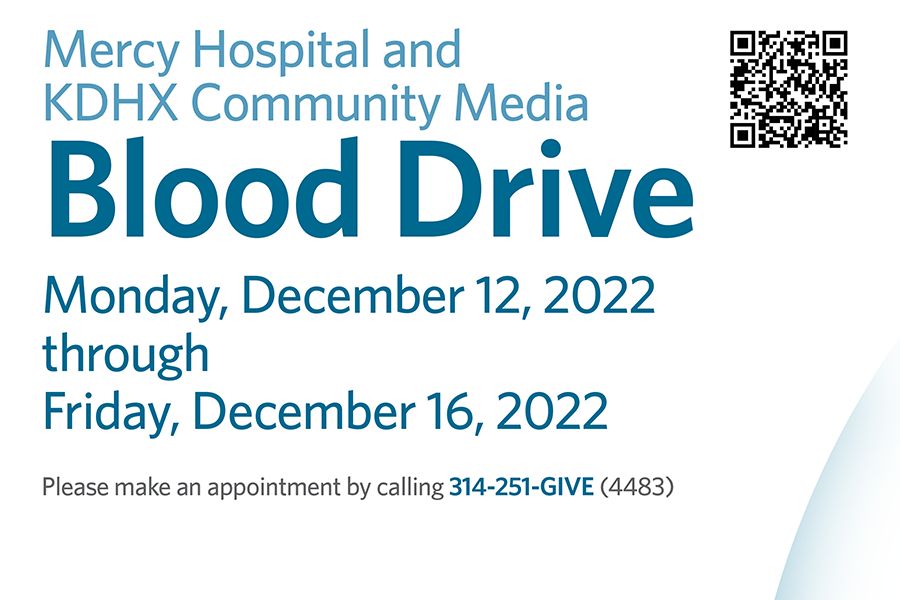 KDHX Media Sponsorship Event Profile: Mercy Hospital Winter Blood Drive
By KDHX
The Mercy Hospital St. Louis and KDHX community Blood Drive runs Monday, December 12, 2022 through Friday, December 16, 2022
Please make an appointment by calling 314-251-GIVE (4483) 
All donors will be required to bring a state-issued form of ID.  
Do not donate blood if: 
In the past 10 days:
You have tested positive or had symptoms of COVID-19 infection.  

You have been within six feet of someone for greater than 15 minutes who has tested positive or has symptoms of COVID-19 virus.

In the past 14 days: you have received a vaccination for COVID-19 (SARS-CoV-2) other than Pfizer, Moderna or Johnson & Johnson.

In the past 12 months: you have received monoclonal antibody treatment or antiviral medication for the COVID-19 virus.
Your blood donation directly helps the people who need it most. It costs you nothing to give and your donation makes a positive difference in the life of another person.
When you give blood or platelets, you give the precious gift of life to someone. Every day, people of all ages and from all walks of life will unexpectedly need blood. They could be accident victims, cancer patients, someone undergoing surgery, or tiny babies in the neonatal intensive care unit. They could be someone you know. Your caring spirit and the time given to donate blood can help save someone's life. Your time and your contribution are valued.
Mercy Hospital St. Louis offers blood donation collection services. Click here to learn more about our donor program & services.