Community Connections
Inside KDHX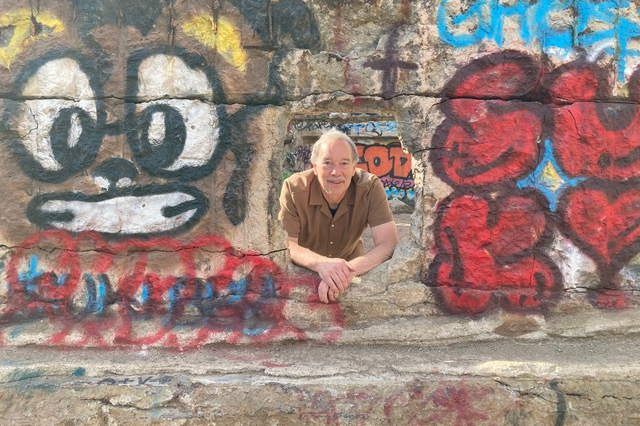 KDHX Donor Spotlight: Mike Jones
By KDHX
To use his own words, Mike has been "tuned into the KDHX experience for 24 years now."
He is out there spreading the word about KDHX and recorded a testimonial for us last year in which he included this great line about KDHX:  . . . "KDHX community is just that, a set of folks connected by airwaves and pointed in the direction of shared discovery."
We thank Mike for his longtime support and for being a great KDHX ambassador. 
Where do you live?
Des Peres
Tell us about yourself: 
Grew up in western Montana; wised up in St. Louis. 35 years muddling around biology and genetics. Likes include travel, live music, film noir, park trails, treekeeping, architectural preservation, historical blogging, and dining with Patricia and friends
How long have you been listening to KDHX?
Odometer says over 100,000 miles
Do you remember when you first discovered KDHX? Do you have a KDHX "origin story?"
Used to listen to Soul Selector while Nordic Tracking with my head between the ceiling joists in our short South St. Louis basement. Guess that would be around 1990. Hooked, it just reeled me in. My ears were outward bound on 88.1 from there.
Why is KDHX important?
KDHX works to stay in harmony with St. Louis. The relationship of sender to receiver puts both on a shared wavelength. You don't get that from nationally syndicated, for-profit programming. Earthworms encourages our organic growth. Here's History tethers us to our heritage. Concert Calendar offers ways to get up off of that thing and support local arts. 
Do you have any favorite KDHX programs?
Sure, and the archives open up opportunities to listen. I most often livestream Pop The Beat Bubble Burst, The Record Sto, Feel Like Going Home, Radio Rio, Chicken Shack, and Riverboat Shuffle. We believe T.J. Muller is a cultural treasure, like the Focal Point. Patricia is tuned into Howzit Bayou, The Big Bang, Memphis To Manchester, Sound Salvation and Midday Jamboree. We both think Fred Gumaer is a cultural treasure, like Chuck's Boots.
How do you listen to KDHX? Live radio? Via the stream? Through the recorded archives?
Listening live during meal prep is like roux for the gumbo. I stream from the archives a lot. In the 60s, I slept with a transistor radio under the pillow. Now we get our music right out loud through KDHX, but the hosts somehow manage to recapture that lost sense of childhood wonder. Technically, we have Sonos throughout the house, which bounces it right along, with a shout-out to The Rhythm Section.
Is there anything else you would like to share about how KDHX has impacted your life?
I've worked pledge drives for the station, and sat in at the desk of the KDHX Folk School. We give to the station every year. The simple knowledge of what the folks there do for FREE every week inspires us to give back. Sharing an enterprise creates a community. So "community radio" is definitive. Having no commercials improves the ambiance, "None of the hits all of the time" bursts boundaries, bringing us a little closer.