Film Reviews
Film Reviews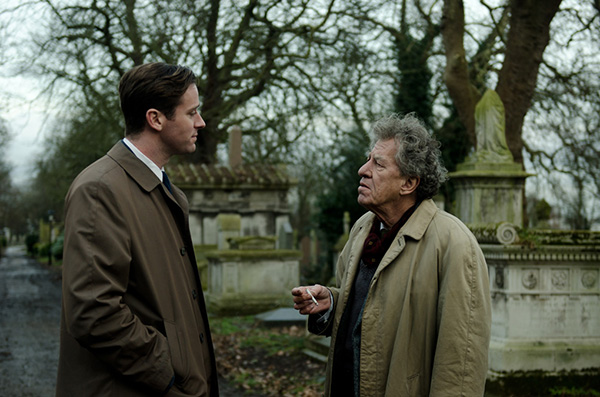 'Final Portrait' profiles a self-critical, tiresome Giacometti
By Diane Carson
True to its title, "Final Portrait" chronicles, in tiresomely repetitious detail, Swiss artist Alberto Giacometti's cajoling American writer James Lord to sit for what becomes Giacometti's final portrait. Promised as a few hours' work, the 1964 event stretches to nineteen days because of Giacometti's characteristic self-criticism and his obsessive need to undo (his words) several days' work, to start afresh.  
At work daily in a dreary Parisian atelier, with his living quarters shared by his wife Annette and his artist brother Diego, Giacometti fusses and complains about the impossibility of painting an acceptable portrait. He says he thinks about suicide every day, that he "can only be happy when desperate and uncomfortable." Blithely insulting a devoted Annette, Alberto perks up only when his favorite prostitute Caroline visits or when he strolls in the nearby cemetery or goes to grab wine and food. Through it all, his patient model Lord guardedly observes, repeatedly postpones his return to New York, and sits like a manikin in a very uncomfortable looking chair.  
Writer/director Stanley Tucci has patience beyond mine for what Lord, one of Giacometti's biographers, conveys as a painfully slow process, escaped in precious few scenes. One with Caroline luring Alberto and Lord for a drive in her red BMW feels jarring, as if inserted from another film. So too is Clémence Poésy's acting style that clashes noticeably with Armie Hammer's undemonstrative Lord. Hammer does sustain the scrutiny of the many close-ups as cinematographer Danny Cohen's camera microscopically examines his face, but Hammer invites no emotional investment. Geoffrey Rush gives a flawless performance as Alberto, and yet, once again, the women remain marginalized, underdeveloped, and inconsequential as the prostitute and the wife.
Tucci presents Lord and Giacometti as dichotomous opposites: Lord walks, Alberto shuffles; Lord is dapper and trim, Alberto slovenly and disheveled; Lord sits quietly and straight, Alberto grumbles, mutters and slouches. Admittedly, capturing the creative process is difficult but are we to indulge, even celebrate, narcissism because of a great artist? At Landmark's Plaza Frontenac Cinema.