Film Reviews
Film Reviews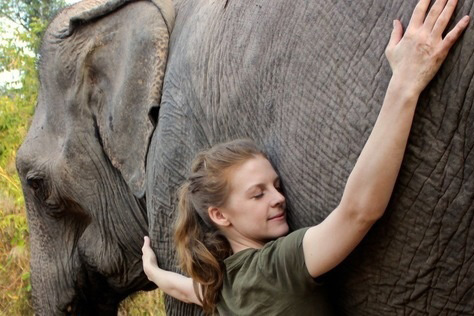 'Love & Bananas: An Elephant Story' visits Cambodia's Wildlife Sanctuary
By Ronnie Wisdom
The documentary "Love & Bananas: An Elephant Story" begins in northern Cambodia with David Casselman in a helicopter surveying and commenting on the appalling deforestation of seventy-five percent of the Cambodian jungle by logging companies. Casselman makes clear the related peril for the endangered Asian elephant and the critical need for the one-million-acre Cambodia Wildlife Sanctuary he has co-founded. 
We soon meet Lek Chailert, who anchors "Love & Bananas." She describes elephants' self-aware, empathic nature and the horrifying abuse suffered by them as handlers reduce them to service animals—put on display, made to work in the logging business, and used in trekking camps. But as disturbing as the explanation, documentation and animation of this treatment is, the magnificent antidote comes from the story of Lek's rescue of over two hundred elephants over twenty years. In fact, in 2005 Time magazine recognized Lek as one of the Heroes of Asia because of her commitment and success saving these noble animals. 
Dramatically illustrating Lek's hard work, "Love & Bananas" moves to a perilous but uplifting journey: saving Noi Na, a 70-year-old, partially blind trekking elephant. It involves a 48-hour, demanding trip across 480 miles in Thailand, with Lek providing important medical help during the transport. Joining her in this endeavor is actress and now first-time director Ashley Bell, so moved by the Asian elephants' plight that she returned two-and-a-half years after her initial visit to help Lek free Noi Na. As heartbreaking as the elephants' shocking situation is, it is equally heartwarming to watch the joy of the compassionate humans and of the animals as they learn they're free and thrive. In this world of such cruelty to so many animals, the responsible choice is to educate ourselves and to respond in a humanitarian way. The least we can do is to show animals kindness and compassion. 
"Love & Bananas: An Elephant Story" screens at Webster University's Winifred Moore auditorium one night only, Sunday, April 22, at 7:30. For more information, you may call 314-968-7487 or on the web at: Webster.edu/filmseries.