Film Reviews
Film Reviews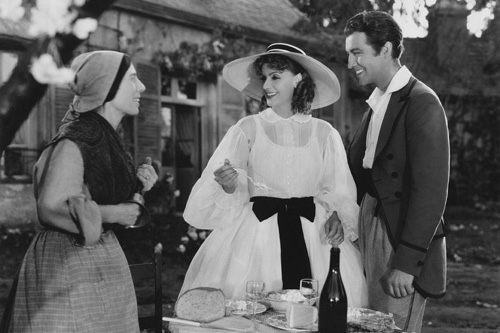 Webster University and the Opera Theater of St. Louis present Opera Goes to the Movies with Two Classic Films
By Diane Carson
Webster University and the Opera Theater of St. Louis co-sponsor Opera Goes to the Movies on Friday, April 27 and Sunday, April 29.  Two classic films, that have corresponding operas, will screen followed by introductions and discussions. They are director George Cukor's 1936 "Camille" and director William Wyler's 1941 "The Little Foxes."
Based on Alexandre Dumas' "The Woman of the Camélias" that inspired Giuseppe Verdi's "La Traviata," the film "Camille" showcases Greta Garbo's exquisite acting as Marguerite Gautier, a role that earned her an Oscar nomination. Financially supported, that is, kept by Baron de Varville (Henry Daniell), she feels conflicted in her passionate love of Armand Duval (Robert Taylor) after his father (Lionel Barrymore) implores her to reject Armand to improve his future prospects. Throughout his career, Cukor earned praise as an actors' director, and Greta Garbo, Lionel Barrymore and Robert Taylor excel in their sensitive performances. Garbo's tragic death scene as she succumbs to tuberculosis has, deservedly, become famous. 
"The Little Foxes" is an equally impressive showcase for Bette Davis and Herbert Marshall, with Lillian Hellman adopting her 1939 novel, the inspiration for Marc Blitzstein's opera "Regina." Set in the South in the early twentieth century, Regina Hubbard Giddens schemes vindictively to gain financial security from infirm husband Horace. Involved in duplicitous affairs with her brothers, she exhibits an astonishing cruelty, even for the Bette Davis roles we've come to know so well. Director Wyler composes with both revealing close-ups and deep-focus shots that invite viewers to survey the complex interaction and emotional impact of choices.  
Both films are in beautiful black and white. "Camille" screens April 27at 7:30 p.m. and "The Little Foxes" screens April 29 at 6:30 p.m. at Webster University's Winifred Moore auditorium. Each screens one time only, and both will have an introduction and a discussion period after the film. For more information, you may call 314-968-7487 or on the web at: Webster.edu/filmseries.