Film Reviews
Film Reviews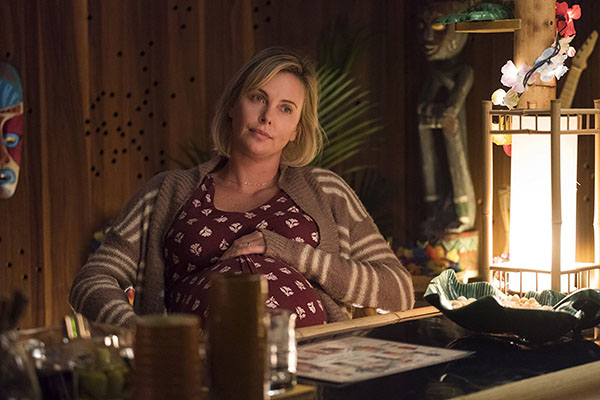 'Tully' shows Theron's stunning acting chops
By Ronnie Wisdom
As real and as honest about mothers as "Lady Bird" is about teenage girls, "Tully" provides a glimpse into the world of maternity. It is difficult to describe, for who wants to see a film about postpartum depression? Of course, "Tully" is much more, so much more than that.
The titular character is a night nanny, but long before we meet this angel, we meet Marlo. She has two children and is preggers with a third, perhaps not planned. Baby arrives and Marlo is thrown back into the world of diapers, demands, and depression. Her rich brother offers to hire a night nanny for his over-worked sister, but she demurs until she does not have a choice. Even she knows that she is drowning.
Enter Tully, a non-anxious presence dedicated to giving Marlo a good night's sleep so she can mother her bairn in the daytime. Tully's charge is not just to care for the infant but also to care for Marlo, truly care for her. 
In any other hands but Diablo Cody's, "Tully" would be a Hallmark movie. Cody's name after "writer" on the crew list assures that "Tully" is going to be so much more than its one-sentence description, so much more than a tear-jerker, for Cody also wrote "Juno" and "Young Adult." Further, Jason Reitman directed those films as well as "Tully," so this production team knows what to do.
Charlize Theron, who stared in "Young Adult," takes center stage in "Tully." She is astonishing as Marlo, looking like crap on a cracker until she gets a decent night's sleep and then looking radiant, Madonna and Child for the 21st century. Her make-up team deserves kudoses.
Acting as the titular Tully is the effective Mackenzie Davis. The cast includes Mark Duplass as the husband and Ron Livingston as the brother. Each actor maintains his role supporting Theron.
"Tully" pictures breast pumps, Cheeri-0s, and suicidal feelings. It matters a lot as a movie about mothering mothers and supporting women, both on screen and off.