Film Reviews
Film Reviews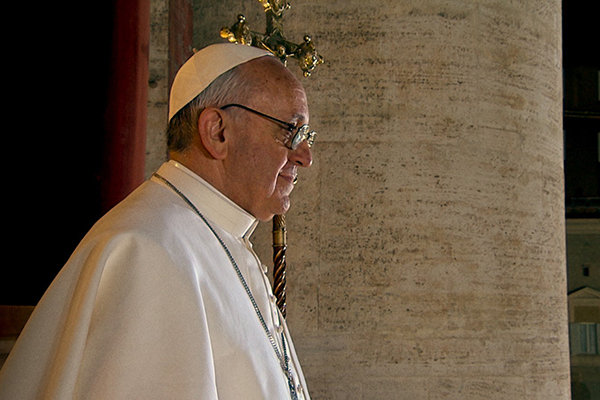 'Pope Francis: A Man of his Word'
By Ronnie Wisdom
In 2013, Jorge Mario Bergoglio was elected Pope of the Roman Catholic Church. He was the first pope to take the name of Francis. He was also the first pope from the Americas, South America to be exact. He faces the camera in a biodoc dedicated to his life.
Director Wim Wenders, who directed "Paris, Texas" in 1984, has, with the Vatican, made "Pope Frances: A Man of his Word" with Francis' own words, making the film a position paper of sorts. Wenders begins with a scene of Assisi, the saint's birthplace, with close-ups in the basilica of Giotto's sacred frescoes, a comic strip as it were, Wenders says as the film's narrator.
Wenders records the Pope speaking to children, answering their questions. He speaks to the Council of Cardinals about vainglory. He addresses poverty, which, he says, is central to the Gospel, for, he adds, Jesus is not in the church that places its hope on wealth. Francis speaks to the workers of Bolivia and the typhoon survivors in the Philippines. Francis reads an Encyclical for protecting the Earth as Wenders records a video scrim screened on the Vatican itself.
Francis is shown in his helicopter and in his little auto, what Wenders calls a clown car, the kind Mr. Bean would motor in. He is shown speaking, at least three languages, and he is shown smiling, touching faces, patting little heads, blessing faces upturned to catch his light.
For a time, Wenders re-enacts the life and work of St. Francis in black and white, a risk cinematically. Re-enactments do not always work, and this one does slow the pace of the Pope's story. However, near the end, Wenders melds the black and white of St. Francis' re-enacted story into the color of the modern world, and that blend works well to transcend time and space. 
Eufemia, an aged nun in Argentina, says that Pope Francis' life is a sermon. So is this good film.