Film Reviews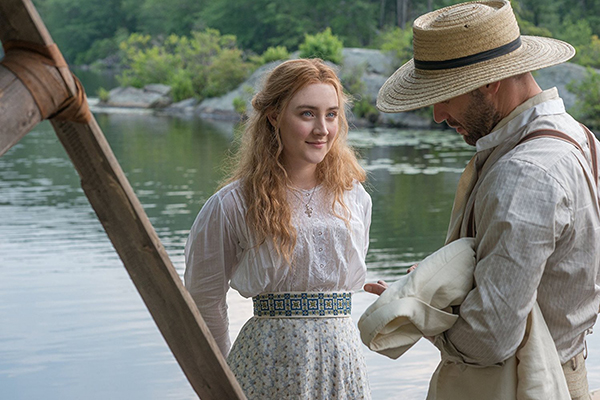 'The Seagull' masterfully present Chekhov's character study
Written by

Diane Carson
Nineteenth-century Russian playwright Anton Chekhov wrote psychologically insightful, emotionally powerful plays, among them "The Cherry Orchard," "Three Sisters," "Uncle Vanya" and "The Seagull." Good actors love sinking their teeth into the vortex of intertwined, colliding lives with irreconcilable priorities and/or personalities. All of this is on display in director Michael Mayer's new cinematic adaptation of "The Seagull."     
Irina Arkadina quickly emerges as the lynchpin of the drama that unfolds at her brother's summer country estate. The narcissistic, wary and controlling prima donna actress Irina proclaims her love for Boris who gradually and irretrievably becomes enamored of Nina, longing for fame on the stage. She loves Konstantin, Irina's son, who returns the compliment to the dismay of Masha, the estate manager's daughter. But events will disrupt, ignite and readjust all elements of the romantic equations.
While the plot sounds like a variation on "Midsummer Night's Dream" and numerous other star-crossed lovers' tales, Chekhov effects a unique tone, one devoid of playfulness or humor while ripe with his celebrated verbal mining of complicated human terrain. Every individual has a stake in the shifting relationships with egos, jealousy, power plays and passion wielded like weapons. Precise in targeting and exposing the often unattractive essence of individuals' interaction, Chekhov lures the viewer into the maelstrom of colliding desires. What one says reveals so much more than he or she realizes, just as in real life.
As adapted theater, the critical element is the cast and an outstanding one holds forth. Annette Bening presents Irina to perfection, shifting through need, fear and desperation with every verbal and nonverbal tool at her disposal. Saoirse Ronan as Nina, Billy Howle as Konstantin, Corey Stoll as Boris, Elisabeth Moss as Masha, Mare Winningham as Polin, and Brian Dennehy as Sorin – all excel in communicating their complex characters' wounded psyches.  
The luxurious country estate physically traps the group while the lake it overlooks liberates them upon infrequent escapes to its freedom. Art direction choices appeal to our senses: beautiful costumes that express personalities and class, a claustrophobic atmosphere that intensifies dialogue exchanges, and lighting that flatters and also exposes individuals. Yes, it is 19th century Chekhov, but his "The Seagull" (a metaphor explained within the film) reveals more about our essential being and entertains better than superhero movies. He reveals the real world. Check local listings.