Film Reviews
Film Reviews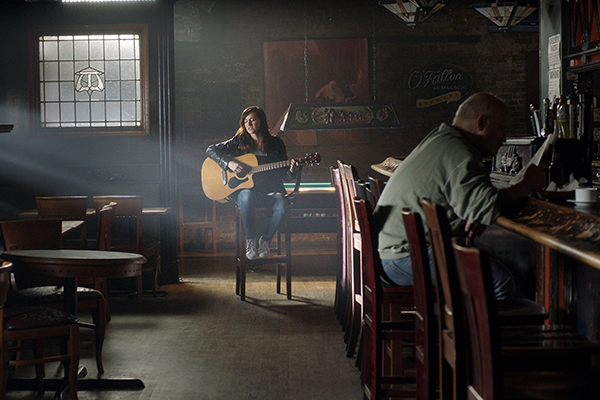 'Becks' highlights St. Louis through a fine character study
By Ronnie Wisdom
Set in St. Louis, former St. Louisans Elizabeth Rohrbaugh and Daniel Powell's feature film debut "Becks" captures its title character in a familiar crisis, the jarring discovery that her partner betrayed their relationship. Reevaluating and searching, Becks moves back in with her mother in Maplewood, reconnects with friends, teaches guitar and sings at local bar Perfectos. 
After a brief, introductory, quietly confrontational scene in L.A., Becks will cautiously navigate her contemporary circumstances with a disapproving widowed, ex-nun mother who argues and listens without any phony, improbably grandiose opening of her mind and heart. Amidst often awkward reintroductions to her former high school pals, Becks is hanging on, finding herself in this honest, appealing profile that respects the daily struggles of a resilient, but adrift woman. 
Lena Hall, Tony-winning and Grammy-nominated, gives an engaging performance as Becks, her pleasing voice and solid songwriting adding appeal. Credit for original songs goes to Alyssa Robbins with composer Steve Salett creating a strong instrumental score. Christine Lahti is excellent as Becks' mother Ann, another real character delivered without histrionics. Mena Suvari as Beck's love interest Elyse effects a relaxed, likable bearing as their relationship develops and as bar-owner Dave, Dan Fogler fits comfortably into the Midwest milieu. 
Even though "Becks" was shot principally in New York, it's still great fun to savor faux local ambiance and to pretend we're in St. Louis. Cinematographer Kat Westergaard confers a refreshing authenticity to modest homes, bars and stores, conveying a totally different feel from Hollywood settings. Technical details also complement this refreshingly modest, relaxed film. It's enjoyable to hang out with these individuals. 
Winner of the U.S. Fiction Award at the LA Film Festival, "Becks" and screens at Webster University's Winifred Moore auditorium Friday, June 8 through Tuesday, June 12 at 7:30 each evening. For more information, you may call 314-968-7487 or on the web at: Webster.edu/filmseries.