Film Reviews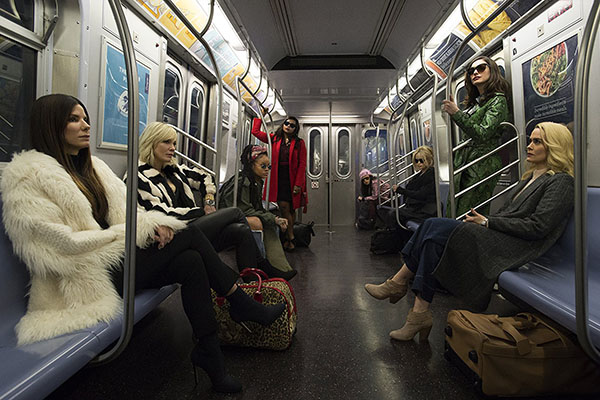 'Oceans 8' Continues the Franchise with Diamonds
Written by

Martha K. Baker
The Oceans probably stole their family tree. Every branch, from Danny Ocean on down, holds a con artist. It's Debbie Ocean's turn to steal. Would that she have pulled off her heist with her eight titular companions with a bit more levity and a lot more suspense.
We begin before a parole hearing where Debbie, stuck in the hoosegow for five years, is promising to lead a quiet life. She is not out five minutes before laying out her scheme to her partner Lou: they're stealing something. From the Metropolitan Museum of Art. From the neck of a woman attending the gala on the First Monday in May.
With movies of this ilk, precious moments are taken up with the gathering of the clan. Each woman has a talent needed to pull off the heist and each has a personality. What each does not have is the ability to communicate well – subtitles would have helped for the many patois, spoken too quickly and/or mumbled.
"Ocean's 8" is predictable. The thievery is going to go like clockwork except for a few glitches and some vomit. Bling will glitter and technology will matter. Of the actresses comprising "Ocean's 8," Cate Blanchett's work is the most nuanced, her voice the lowest. Helena Bonham Carter, all bosom and peplum, is the most wackilicious, especially when eating Nutella out of the jar. 
Gary Ross, who wrote "Big" 20 years ago, wrote the script for "Ocean's 8" with Olivia Milch. They included this maxim: "The only way to con a con is to tell the truth." The script is leaden. "Ocean's 8" does not get amusing until the last half hour, a pretty long way from that first scene in prison. Ross' direction is as heavy as a six-pound diamond necklace drawn from its signature red Cartier box. As a summer movie, "Ocean's 8" should have been lighter. The 2016 documentary, "First Monday in May," has more to recommend.