Film Reviews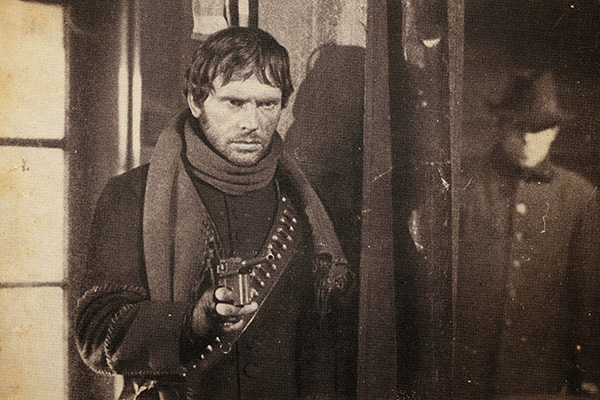 'The Great Silence' Depicts Brutal 1898 World of Bounty Hunters
Written by

Diane Carson
Bounty hunters and bandits, corrupt politicians and common thieves, saloon women and distraught widows: these classic characters account for mayhem and massacres in director Sergio Corbucci's 1968 Italian western "The Great Silence." The title refers both to a mute gunfighter called Silence who pursues Loco and his gang of merciless killers and to the pervasive presence of death. 
Set during the blizzard of 1898, under the pretense of bringing criminals dead or alive to justice, violent, vicious bounty hunters rake in legal, monetary rewards. By contrast, victims' anger and a grief-stricken widow propel Silence to revenge as his singular quest. Shot partially in studios and with the Pyrenees standing in for Snow Hill, Utah, the mountainous landscape is breathtaking, offering stunning locations, the atmosphere as frigid and forbidding as the terrain. 
The acting is stylized, appropriate to Corbucci's design. As Silence, Jean-Louis Trintignant comes off best since he speaks not a word of the post-dubbed (the Italian system), artless dialogue. The script requires him only to scowl and stare, which he masters to perfection. Klaus Kinski plays the bounty hunter called Loco, which is, as we now know, just up his alley. Vonetta McGee has poise as widow Pauline, while the entire cast contributes to a unified effort – grim, explosive action alternating with somber interaction.  
Ennio Morricone's instantly recognizable music pulsates and emotionally interprets the action, pumping up the adrenalin often, surprisingly, with suspenseful, subdued compositions. Silvano Ippoliti's cinematography relies on numerous, long-held close-ups; quick camera moves into faces; atmospheric poker games in dirty saloons; and bloody killings – all familiar to fans of Sergio Leone, Sam Peckinpah and Quentin Tarantino with their excessive violence and flashy style. Director/co-writer Corbucci's "Django" and this film belong in the best of that genre.   
Make no mistake, the ugliness of violence and greed comes through a dark, savage story with an incredibly brutal conclusion. In Italian with English subtitles, "The Great Silence" screens at Webster University's Winifred Moore auditorium Friday, June 29 through Sunday, July 1at 7:30 each evening. For more information, you may call 314-968-7487 or on the web at: Webster.edu/filmseries.