Film Reviews
Film Reviews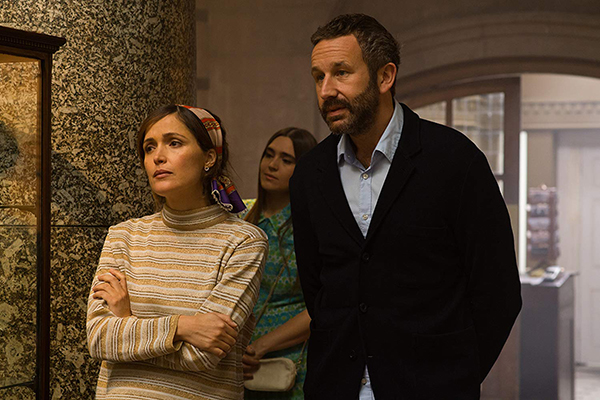 'Juliet, Naked' is deliciously darling
By Martha K. Baker
The novelist, Nick Hornby, wrote "About a Boy and High Fidelity." He has imagination, which is why filmmakers like him. They take his novels, wrestle a script out of them, cast good actors, and tickety-boo, create a darling, funny, creative little film – like "Juliet, Naked."
The title refers to a song, a song by one Tucker Crowe, whose life is mostly in the rearview mirror. However, bloggers like Duncan keep him alive through gossip, blogs, and a shrine in the rumpus room, wall-coated in old posters and album covers and glossies.
Duncan seemingly cares more for Tucker Crowe than for his girlfriend, Annie, who, understandably, has run right out of patience. Annie runs her father's seaside museum and has her own concerns, but one day she blogs her opinion, not positive, about one of Crowe's works. And lo! and behold, the man himself e-mails her to compliment her on her perspicacity on said song.
They begin an e-mail penpalship and kinda fall in like with one another. They think it will go nowhere. After all, Tucker Crowe is living in a garage in America behind his ex-'s house, and he spends his days caring for his son Jackson. Jackson is but one of his children, begotten on a slew of women. When one of those children delivers a grandchild to old Tucker, he goes to London to see the babe, which puts him ridiculously close to Annie and Duncan.
The comic Irish actor, Chris O'Dowd, creator of "Moone Boy," plays Duncan, spitting out lines as if he were throwing playing cards into a hat. Rose Byrne, the Australian actress so good in "Bridesmaids" with O'Dowd, plays Annie with supercilious charm and angst. Tucker Crowe, all bad haircut, is played to a T by Ethan Hawke, who prevailed in "First Reformed" earlier this year. Azhy Robertson plays Jackson very well.
Jesse Peretz, with credits on the series "Girls," directed with daring, interweaving voice-overs with talk-overs from the script by his sister Evgenia Peretz and by Jim Taylor and Tamara Jenkins. The scene in the hospital is the comic capstone to the film.
"Juliet, Naked" often surprises but never disappoints, producing the delighted clapping of happy hands at the end.