Film Reviews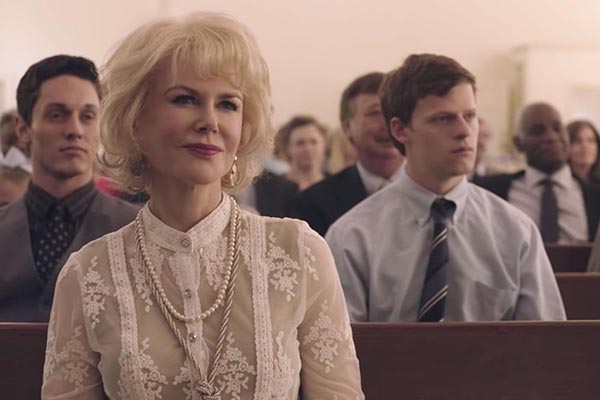 'Boy Erased' profiles misguided conversion therapy without demonizing it
Written by

Diane Carson
Well-intentioned, but totally misguided individuals can inflict enormous psychological and physical harm as vividly dramatized in writer/director Joel Edgerton's "Boy Erased." Adapted from Garrard Conley's 2016 "Boy Erased: A Memoir," the film follows Jared, a Baptist preacher's teenager son, navigating a conservative Arkansas town, as Conley did. Hoping to conform to heterosexual norms, Jared enters a conversion therapy program.
At his parents' insistence, 18-year-old Jared initially embraces the program: listening to, assessing and evaluating the experiences of similar teenagers, trying to follow the dictates. Those include Jared being told that God cannot love him the way he is, homosexuality being a choice. His observant, quietly frustrated mother Nancy says she loves God and her son, noting "They say sometimes you have to hurt a child in order to help them." She also knows that for Jared's preacher father Marshall, "It's a little complicated." 
What "Boy Erased" achieves so expertly is an in-depth portrayal of what Edgerton at Telluride called an important conversation. As he said, "Let's not play heroes and villains." Indeed, that tempting indulgence would be so simple-minded and unproductive an approach. And yet, Edgerton doesn't pretend all comes out rosy and fine as Nancy and Marshall move toward different reevaluations and conclusions. 
All of this depends on perfect performances. Delivering deeply moving but never sensationalized moments are Nicole Kidman as the mother, whom she does in fact resemble, and Russell Crowe as the father in a beautifully nuanced interpretation that shows his pain, his struggles, and his monumental challenges given his deep religious beliefs. Above all, however, Lucas Hedges as Jared carries the film, more often watching and subtly reacting rather than overplaying his own heartache moving to acceptance.
Garrard Conley himself has a cameo in one early group scene, and director Edgerton plays the head therapist intent on Jared's conversion. All the posters, books, spatial arrangements, and more are exactly accurate, not that we would know but the solid realism comes through. "Boy Erased" is a rare dramatization: thoughtful and honest, acknowledging the harm done by those committed to conversion therapy.