Film Reviews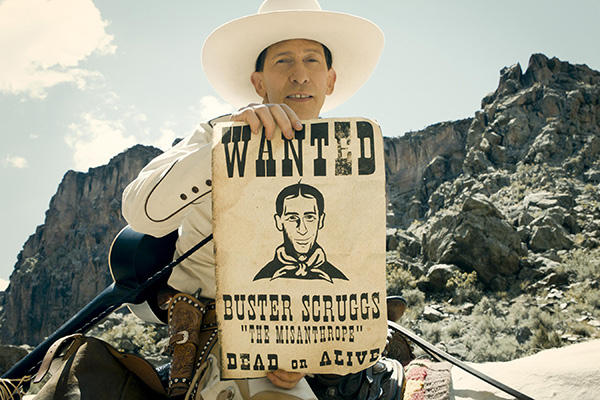 'The Ballad of Buster Scruggs' delivers the Coens' take on the Old West
Written by

Diane Carson
Ethan and Joel Coen have needed no introduction since their gripping 1984 feature debut, "Blood Simple." They repeatedly offer their unique blend of offbeat humor and unexpected violence. Consider "Raising Arizona," "Fargo," "No Country for Old Men," and "Burn After Reading." Now with "The Ballad of Buster Scruggs and Other Tales of the American Frontier" they offer a western anthology.
As writers and directors, as well as editors under their usual designation of Roderick Jaynes, each story presents a Coens' inimitable take on familiar Old West topics and themes. Six distinct stories, running two hours twelve minutes total, boast six outstanding, different casts. It kicks off with Tim Blake Nelson as Buster Scruggs, resplendent in all white on his white horse Dan, strumming his guitar, singing and talking directly to the camera, riding through Monument Valley landscapes (a nod to the iconic location for famous John Ford westerns). Those who confront him meet his guns, until one day he greets a man in black with a harmonica.
The first-rate actors assembled and the distinctive mood for each story require shifts in expectations, though I've always found it's best to surrender to the Coens' singular vision. "All Gold Canyon" exposes a prospector's dangerous obsession searching for gold (Tom Waits). "The Gal Who Got Rattled" travels with a very long wagon train headed for Oregon, features a great deal of polite talk and the abject terror of Indians (Zoe Kazan, Bill Heck, Grainger Hines). "The Mortal Remains" listens to a pair of bounty hunters and the disdain of their fellow travelers (Brendan Gleeson, Tyne Daly). "Near Algodones" plays with an interrupted hanging (James Franco), and "Meal Ticket" is too bizarre to describe with a traveling show and recitations from Shelley's "Ozymandias" to Shakespeare (Liam Neeson and Paul Rae). 
Each tale has a complementary style from a camera position inside Buster Scruggs' guitar to expansive shots of the great plains. Intensified sound brings scenes to life: creaking boards to metallic spurs and the haunting wind. As usual, the Coens have reinterpreted our mythic tales and jolted our imaginations. At Landmark's Tivoli Cinema and streaming on Netflix.