Film Reviews
Film Reviews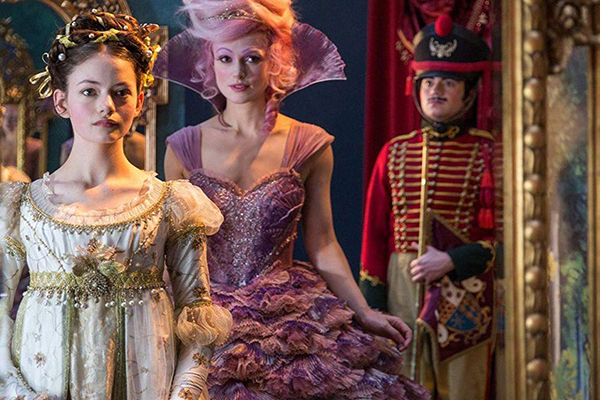 'The Nutcracker and the Four Realms' Is a Complete Fantasy
By Martha K. Baker
The latest Disney extravaganza is fantastic -- literally. The ballet by Marius Petipa that most people know is based on a short story called, "The Nutcracker and the Mouse King," written by E.T.A. Hoffman. Both are fantasies. Ashleigh Powell wrote her screenplay to expand those flights of fancy.
In the latest version, Clara, a clever girl, sidles into the Four Realms of Imagination while looking for a key to retrieve a gift from her dead mother. At a holiday party thrown by her godfather, Drosselmeyer, she, like the other guests, follows a golden cord to the key -- only to have it stolen by a mouse, cuter even than Mickey, but a rodent nonetheless.
She enters a parallel universe where life moves more quickly. And there she finds the Land of Snowflakes, the Land of Flowers and the Land of Sweets. The fourth realm, ruled by the termagant Mother Ginger, is where Clara hopes to find the key. 
What she finds is that she is her mother's daughter, which makes her both a princess and an engineer who can fix broken gears and cranks.
Starring as the wide-eyed, bright young woman is Mackenzie Foy, who carries herself well through the fantasy. She is supported by Matthew Macfadyen as her father and Jayden Fowora-Knight as the Nutcracker. Morgan Freeman plays the kindly, one-eyed Drosselmeyer, with Helen Mirren in the role of Mother Ginger. Keira Knightly is the Sugarplum Fairy, a better part for her than, say, Colette.
'The Nutcracker and the Four Realms' offers spectacular special effects, awe-inspiring costumes, parades, and the stunning dancing of Misty Copeland to songs by Tchaikovsky. Still, one has to ask, did 'The Nutcracker' deserve all this fantastic frou-frou any more than Jane Austen deserved zombies?