Film Reviews
Film Reviews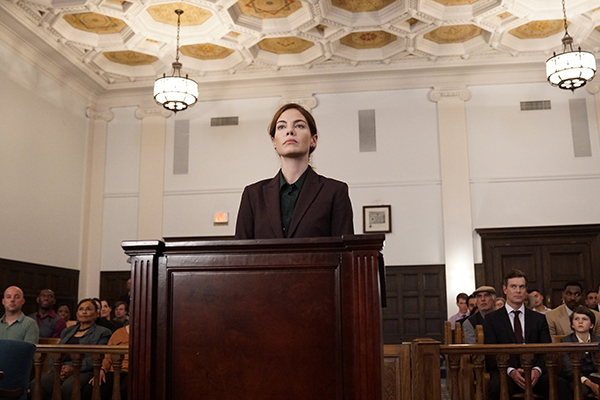 'Saint Judy' Helped Change Asylum Laws
By KDHX
Though the true story dramatized in 'Saint Judy' takes place fifteen years ago, the central issue couldn't be more relevant: asylum for refugees held in detention centers. It focuses on one individual from Afghanistan, Asefa Ashwari who, because she started a school for girls, suffered violent retribution from the local police and the Taliban.
But the complementary saint of the story is attorney Judy Wood. Upon moving to Los Angeles from Albuquerque, she goes to work at an immigration office where it's immediately and painfully obvious that the attorneys should quickly sign off on cases and move on. Assigned Asefa's case, Wood investigates, is fired, and begins her own practice defending Asefa and other asylum seekers, men and women who often held prestigious positions in their prior countries. However, the US legal system presents formidable obstacles to qualify for asylum, for example, women are not recognized as a protected class.  
Wood has other challenges: a single parent to a grade-school boy causing problems, lack of money given the people she serves, and even her own obsessive commitment to her mission. The film also has its faults, including a cloying, annoying music track and unnecessarily preachy moments such as when Wood declares you have to fight for everything; I won't give up, and "even if a mountain is very high, it has a path to the top." We don't need this. Events can and do clearly reveal her admirable character, which is established in the opening court scene and almost every interaction thereafter.
On the plus side, Michelle Monaghan as Judy Wood gives an appealing, controlled performance even when having to deliver clunky lines. As Judy's LA boss Ray Hernandez, Alfred Molina is as good as always. So too are Alfre Woodard as the detention center's Judge Benton and Common as the prosecutor Benjamin Adebayo. In a refreshing break with stereotype, Wood's assistant Parker, nicely understated by Ben Schnetzer, has money, character, and humor.
Director Sean Hanish and writer Dmitry Portnoy both have their values in the right place. What they lack is an elegant dramatization of their ideas without a didactic subtext. In other words, trust the audience; we understand injustice in all its multifaceted forms and 'Saint Judy' adds another important piece to that reality.