Film Reviews
Film Reviews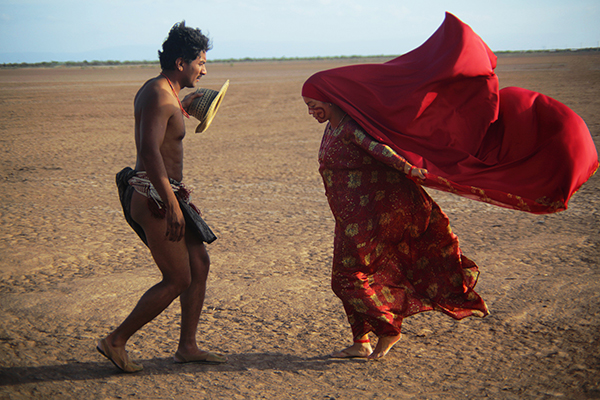 In 'Birds of Passage,' Local Customs Collide with Drug Trade
By KDHX
The violence and dehumanization of the drug trade collide with the dictates of local customs in directors Cristina Gallego and Ciro Guerra's film 'Birds of Passage.' In five sections labeled "songs," the indigenous Wayúu, a matriarchal society of the arid northern Colombian Guajira region, confront the transformation effected by the movement into marijuana trafficking in the 1970's and 1980's.
But to call this a conventional film based on the impact of drug dealing on an isolated community is to totally underestimate the unique achievement of immersion in a culture "guided by dreams and spirits," as Gallego and Guerra write. They add, it is "a story of love and honor, of armed, weak and impulsive men and visionary, strong, powerful women; taking place in a land half real / half dreamt, a place populated by colorful, mythical beings, who are able to turn abruptly from human into animal, capable of the utmost generosity as well as the bloodiest violence."
It begins with a gorgeous ceremonial courtship dance (the ritual "yonna") by Zaida, who has just emerged from a year's compulsory isolation. Rapayet wins the right to marry her, if he returns with a huge dowry. Zaida's mother, Ursula Pushaina, calls the shots. Financial demands pressure Rapayet to take advantage of U.S. Peace Corps workers who ask for weed, as they denounce Communism, a stunning irony.
The destruction that follows the escalation of the smuggling is heartbreaking as familial relationships deteriorate. I found myself dreading what was clearly the next disastrous development. More upsetting, the tragedies are based on actual events from the 1960's on, what is called "la Bonanza Marimbera," money luring many into this violent trade. However, it is the aftermath of the numerous murders, their consequences that dominate, not the bloodbaths. In addition, the cinematography and the editing also avoid typical choices, that is, the camera often shoots from a distance as events unfold in real time.
The film's title, 'Birds of Passage,' signal birds as important omens and is a term for drug runners. This is a unique, amazing, beautiful film. Colombia's submission for this year's Best Foreign Film Oscar.
In Wayuu, Spanish, and Wiwa with English subtitles, 'Birds of Passage' screens at Landmark's Plaza Frontenac Cinema.