Film Reviews
Film Reviews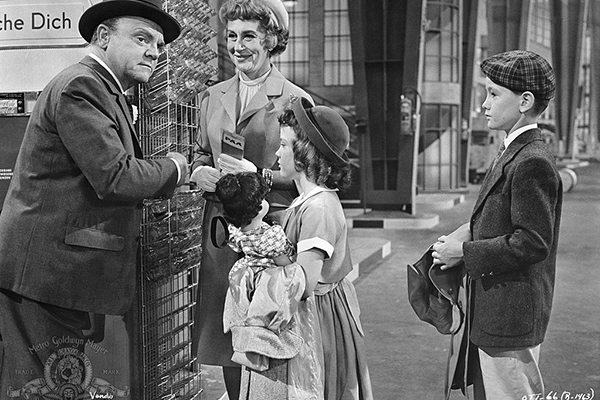 Four films celebrate the 30th Anniversary of the Fall of the Berlin Wall
By Diane Carson
Webster University's film series honors the 30th anniversary of the fall of the Berlin Wall (November 9, 1989) with a program of four noteworthy selections. It begins Saturday, October 5, with "One, Two, Three." Director/co-writer Billy Wilder's 1961 humorous take on pre-Wall culture finds Coca-Cola executive C.R. MacNamara, a magnificent James Cagney, navigating a professional and personal minefield.  
That was also the situation for the production, when the Berlin Wall went up during filming, forcing a production move to Munich. The second film in the series, Sunday, October 6, is "Good Bye, Lenin," German co-writer/director Wolfgang Becker's 2003 satire of competing ideologies—socialism and capitalism—through one East German family in unique crisis. After a quick introduction to the Kerners, single mother Christiane collapses into a coma after seeing her teenage son Alex getting arrested in a volatile protest march. When she recovers, eight months later, the transition from isolated East German socialism to burgeoning capitalism is in full swing. And a rich, metaphoric conceit kicks in as propaganda from a bankrupt communism to an exploitive consumerism receives an equally critical, comical look.
Saturday, October 12, American director Martin Ritt dramatizes John le Carré's suspenseful cloak-and-dagger thriller "The Spy Who Came in from the Cold," starring Richard Burton and Claire Bloom. 
Sunday, October 13, the fourth and last film in this program is German director Dani Levy's 2004 "Go for Zucker." After the fall of the Wall, Jaeckie Zucker, aka Jakob Zuckermann, confronts money problems and, to solve them, must reconcile with his German Jewish family in an unusual comedy.
In collaboration with Webster's Department of International Languages and Culture, the screenings include speakers providing context and leading discussion after each program. The two German language selections have English subtitles. Each film screens at Webster University's Winifred Moore auditorium one night only 7:30 p.m. For more information, you may call 314-246-7525 or on the web at: Webster.edu/filmseries.