Film Reviews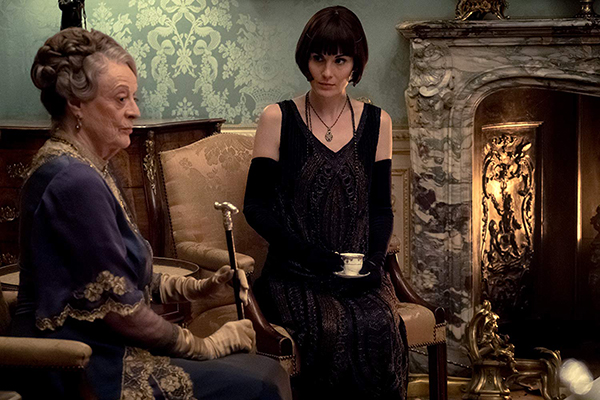 'Downton Abbey' Returns With Affection
Written by

Martha K. Baker
If you never watched "Downton Abbey" on the telly, it's possible that the film version will be hard to follow. If, however, you were glued to the TV box for five years, you'll be pleased to be invited back to Downton, a grand pile of a house portrayed by Highclere.
"Downton Abbey," the film, succeeds for much the same reason that "Downton Abbey," the television show, did. Two words: Julian Fellowes. Without his words, carved or spread with knives from the cutlery, all these good actors who returned from television to portray beloved characters would have nothing to work with. The story is a variation on a theme perfected by "Upstairs/Downstairs,": the Crawley family upstairs and Downton staff downstairs, between stairs, and in my lady's chamber.
To ground the plot, the film has a visit from King George V and Queen Mary. The house staff must dust the newel posts, polish the forest of silver, and rake gravel in the drive. Who's to superintend the staff? Carson retired from butlering, but could he be enticed to return? What about Barrow?
To complicate proceedings – and further the plot – the royals bring their own retinue, which throws Bates and Anna and Mrs. Hughes and Daisy into a righteous tizzy and some skullduggery. Another complication is that a distant relative, played by the impeccable actor Imelda Staunton, introduces her maid, err, her "companion," as an heir to the estate. More deviousness required.
Lady Viola, the Dowager Countess of Grantham, played by Maggie Smith as if pricking pickles out of the jar with a fork, engages in pointed persiflage with Isobel, her foil, played by Penelope Wilton. Their dialogues display Fellowes' pen at its sharpest and most enticing.
Spearing hold of the subtexts – from politics to homosexuality to women's rights – requires Lady Viola's pickle fork, but it's well rewarded. Anna Robbins' costumes, Donal Woods' production design, and Ben Smithard's cinematography add to the film's content for appeal. "Downton Abbey," the movie, proves satisfying and enjoyable, especially for Anglophiles upstairs or down.