Film Reviews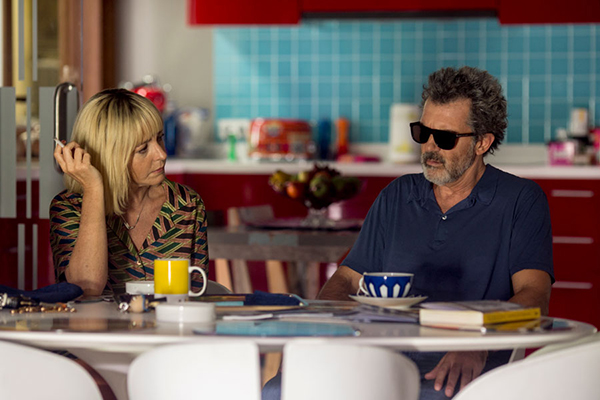 'Pain and Glory' Finds Almodóvar Reflecting On His Life
Written by

Diane Carson
Multi-award winning Spanish director Pedro Almodóvar has impressed audiences, myself included, since the 80s with original, creative, provocative and often humorous narratives. His art direction – often riotously colorful – infuses compositions with dynamic energy. Now, after almost forty years, Almodóvar has made his most personal and deeply moving film, "Pain and Glory." 
The central character, film director Salvador Mallo, physically and emotionally ill, envisions a revival of his career. Looking back, hoping to repair past offenses he now regrets with reexamination, he reaches out to those he's harmed while also remembering fondly his mother, his childhood, first love, estrangement, and his film career. 
In a director's letter, Almodóvar writes, "My life has indirectly found its way into every picture I've made, but 'Pain and Glory' is the most representative of me. I have deposited in it everything that I own: my furniture, my paintings, my clothes, my intimacy, a few ghosts, my childhood memories." Indeed, at Telluride this year, Antonio Banderas said that from his own apartment Almodóvar brought to the set everything on display: books, photos, art, knick knacks, but, most significantly, his heartfelt reflection on his life. Banderas, who won the Cannes Film Festival Best Actor award for "Pain and Glory," described the emotional journey he and Almodóvar shared. Banderas said he also gained a rejuvenated perspective after a heart attack three years ago. Together he and Almodóvar burrow into emotions seldom confronted and explored so honestly with the regret, sorrow, and release this brings. Banderas called it not autobiography but self-fiction.
As always with Almodóvar's films, the art direction vibrantly expresses the environment for each scene, with credit to Maria Clara Notari's expressive design. Alberto Iglesias' music, entirely composed after the production wrapped, offers an equally strong element. Above all, Almodóvar wrote, "I hope 'Pain and Glory' pleases you, moves you, and keeps you company for many days to come." Indeed, it does. In Spanish with English subtitles, at Landmark Theatres. Check listings.