Film Reviews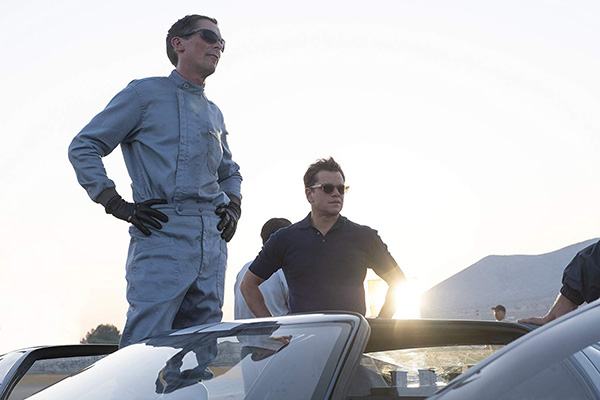 'Ford v Ferrari' Thrillingly Captures The Grand Le Mans Excitement
Written by

Diane Carson
Based on the real-life competitive, antagonistic rivalry between Henry Ford II and Enzo Ferrari over Formula One bragging rights, director James Mangold's "Ford v Ferrari" roars loudly and thrillingly out of the gate. In the opening scene the camera adopts the driver's point of view, as the car careens around turns and accelerates down the straightaways. 
Similar racing scenes punctuate the determination of expert car designer Carroll Shelby, with Ford's monetary backing, to end Ferrari's five-in-a-row French Le Mans victories. To win the 24-hour 1966 race, they'll need the best, most daring (perhaps insanely so) man behind the wheel, and so Shelby goes after British WWII veteran Ken Miles, an impossible, pugnacious perfectionist. As Shelby and his crew engineer the Ford GT40 for the oldest and most demanding endurance contest, personalities clash, national pride escalates, and bureaucrats undermine critical decisions. 
The inspired pairing of Matt Damon as Shelby and Christian Bale as Miles (replacing an earlier designation of Brad Pitt and Tom Cruise) makes the respectful camaraderie alternating with temperamental fireworks quite compelling. Damon, one of the most effortlessly likable actors, counterbalances Bale, a forcefully brittle individual. As usual, the women have too little to do, especially regrettable with Miles' wife Mollie, a fine Caitriona Balfe, who has one stunning driving scene of her own. Another standout in a supporting role is the always reliable Tracy Letts as Henry Ford II who enjoys one of the funniest scenes when he's taken for a spin in the GT40. Phedon Papamichael's cinematography superbly frames interaction and thrusts us into the race footage electrifyingly intensity. Credit for that also goes to Andrew Buckland and Michael McCusker's split second editing, with enhancement from the music and sound. 
At the Telluride Film Festival world premiere, director Mangold said "Ford v Ferrari" is about friends, not just cars. That fittingly credits the story's strong infrastructure, but the Le Mans race itself, what everything builds toward, provides the excitement. For cinema goers who don't know the outcome, wait for the surprise, don't look it up.  
Also at the Telluride Fest, a veteran race car driver praised this presentation as the most authentic of all race films. Yes, its two and half hours certainly could have used some trimming, but settling in to a very Hollywood film still has its indestructible appeal. At area cinemas, with IMAX definitely delivering the best experience for this visceral film.