Film Reviews
Film Reviews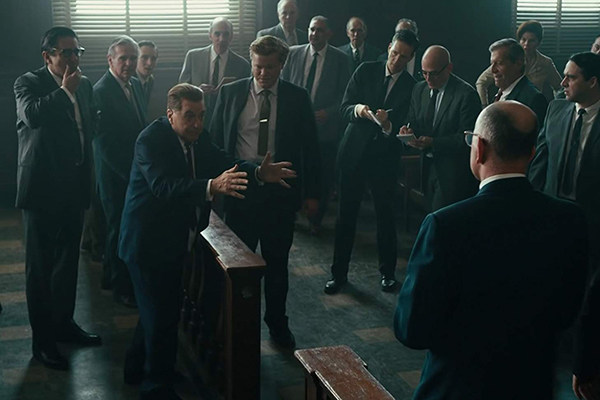 'The Irishman' Lays Out A Lie
By Ronnie Wisdom
"The Irishman" is a nearly perfect movie. From dialogues to monologues in Steven Zailian's script, from Rodrigo Prieto's camera angles and Robbie Robertson's music to vintage scenes designed by Bob Shaw. Martin Scorsese has directed a movie that can be described only as brilliant. Except for one thing: it is based on a fable.
Dan Moldea calls it a "fabulous false-fact-filled film fantasy." Moldea is an investigative reporter. He has spent decades studying the 1975 murder of Jimmy Hoffa. He claims that the death of the former head of the International Brotherhood of Teamsters came not from Frank Sheehan's self-alleged hand. That Irishman, who learned Italian while fighting World War II in Italy, wrote a book in 2004 about the hitman -- with himself as the sole source.
Moldea attacked Sheeran's credibility. At a 2014 meeting with Robert De Niro, who Oscar-plays Sheeran, Moldea warned the actor that he'd been "conned." Nevertheless, De Niro learned his lines. And learned them well. In his role as the Mafioso, De Niro's vocal cadence mirrors Donald Trump's.
Laying the truth aside, however, "The Irishman" exceeds on all critical measures as a film. Its 3 and 1/2 hours fly by, starting with the narrator, Sheehan, in an old folks' home looking back on his hit parade. Scorsese organizes the film by one long flashback (with interstitial flashbacks) and by a thread of a car ride in a pimpmobile with two smoking-hot wives behind their two hitmen husbands.
In addition to the magnificent De Niro, Joe Pesci plays a made man. Al Pacino turns in a masterful job as Hoffa, his hair high and wide, his demands penetrating. Bobby Cannavale, Harvey Keitel, Jesse Plemons, and Ray Romano play hard in the supporting cast of hundreds, mostly of males. 
Scorsese's touches proclaim him a master. Cue cards report the deaths and prison sentences of the many men. Bells and chimes tell time throughout, accompanied by unobtrusive musical hits of these decades. The powerhouse Thelma Schoonmaker edited.
"The Irishman" stuns with its attention to detail -- except for that one thing: the basic truth.